Aug.14.2008
I just caught up with this report originally from the New Yorker print edition only ....
National Intelligence Director Mike McConnell is drawing up plans for cyberspace spying that would make the current debate on warrantless wiretaps look like a "walk in the park," according to an interview published in the New Yorker's print edition today [Jan.14.2008].

Ed Giorgio, who is working with McConnell on the plan, said that would mean giving the government the authority to examine the content of any e-mail, file transfer or Web search.

Giorgio warned me, "We have a saying in this business: Privacy and security are a zero-sum game." (A zero-sum game is one in which gains by one side come at the expense of the other. In other words -- McConnell's aide believes greater security can only come at privacy's expense.)

Under this plan-in-process, government computers would continuously and automatically filter and scan every communication you and I have over the internet with anyone else at any time.... AND whatever books we order, information we search for, questions we ask on-line (Ask.com, Wikipedia, etc etc).
If you ask the wrong question on-line, open the wrong website, read the wrong news, search for the wrong topic, buy the wrong book, download the wrong file, use the wrong phrase in an e-mail, attach the wrong picture or joke to an e-mail, receive the wrong e-mail, then you may get tapped on the shoulder and asked to explain (after being deprived of sleep a few days) why you did that. (Remember, you have already approved the federal government to detain and "question" people indefinitely, without charges.)
Yeh.... I know.... that won't happen to you.... you're just happy the government is spending your taxes to spy on you so you can feel safe.
Security, feeling safe, is the single most important thing Americans (as a group) want their government to provide .... which is why we are willing to give up the individual rights and privileges the Constitution blessed us with.
Knowledge is power and the government simply cannot allow people to share knowledge unchecked.
I've come to realize now that We, the People of America 2008, don't deserve the blessings and protection of our Constitution. We are too lazy and stupid and "safe" and content..... like dumb little lambs, happy grazing day to day, not noticing those who disappear now and then.
Which brings me to this glorious moment.....
The Alfred Award
for a
Notable Achievement in Stupidity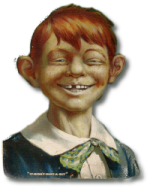 goes to .... us ...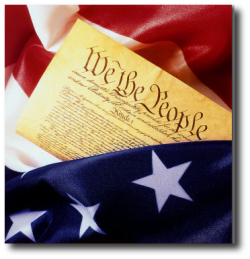 tap ... tap .... tap ..... hmmm... someone's at the door...
---
Very interesting article on the election of 1800 and the birth of the 2-party system ... things don't seem to have changed much .... still the same relentless confrontations (fistfights in Congress even!) .... but the good view of this is that we are NOT living in the worst of times, as my political rants often imply.
---
Aug.15.2008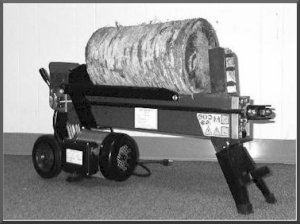 took the leap this morning and bought an electric log splitter on line from some place in CT .... 7 ton ... looks good in pictures .... gotta beat my little hatchet and hammer method.
SocSec finally decided that I really am deaf, not faking it. Took them about a year to decide that (had 3 sets of doctors' hearing test data to make the decision), but they set my official day-I-became-deaf-for-SocSec at April2007 and deposited a chunk of money in my checking account, which explains the log splitter and probably an October trip to Texas. (But they still owe me $750,000 according to my calculations.)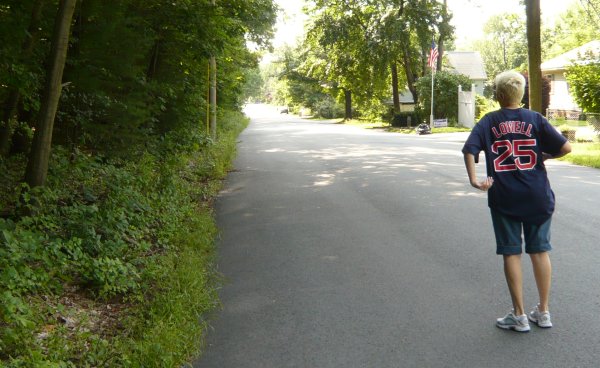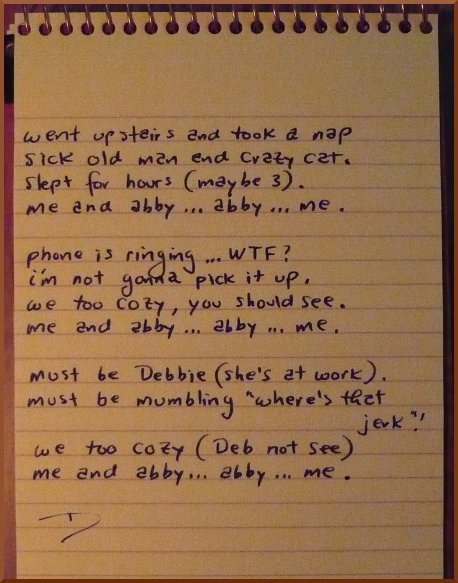 Aug.17.2008 .... Happy Birthday, Good Buddy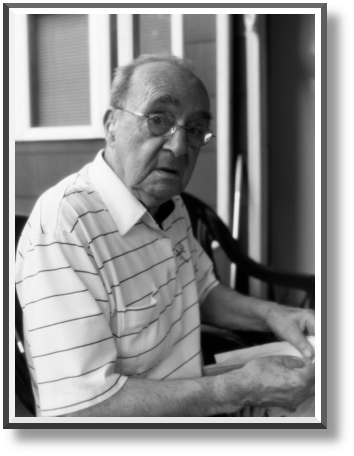 "I wonder what the poor people are doing today?"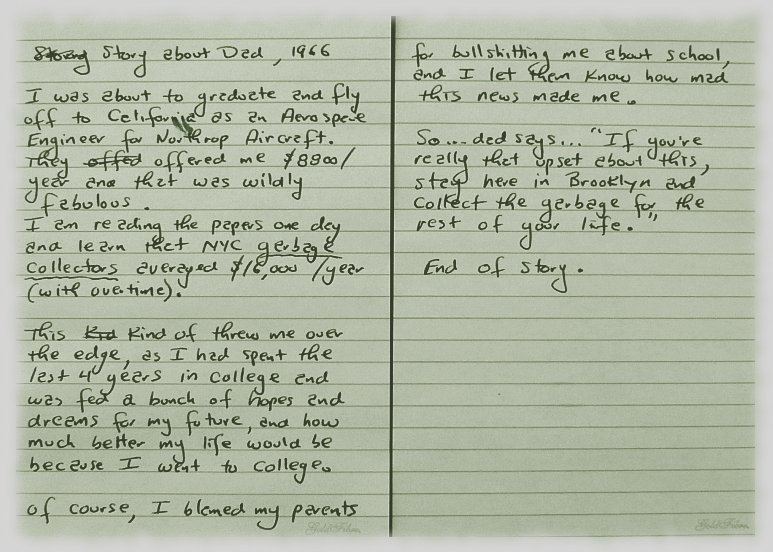 ---

G & K are away and Deb has been cat sitting, but she's working and i checked on them today.... Rudy is everybody's friend, and we got to be pals for a few minutes today.

Aug.18.2008

if you are looking for me the 3rd week of september, i'll be at

Who to vote for...

come november, i hope obama wins, but i won't vote for him because (although he has a soul) he doesn't have the moxie for the job. [but here is another viewpoint on that]

of course i won't vote for mccain ..... the guy's a souless imbecile.

that leaves me with a dilemma..... who do i truly think deserves to be our next president?
Aug.20.2008
posted vintage pix from our trip to Nevada in 1998. they were shot as slides and rephotographed or scanned in (i forgot).... the projected slides are incredible.
---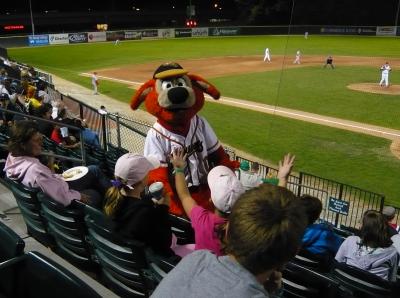 Went to the game last night. It was a good time, and only $10 !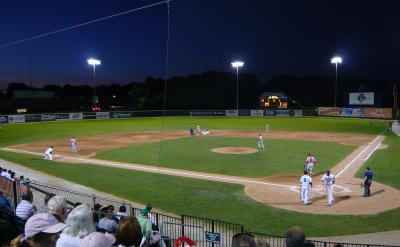 Aug.22.2008

well..... it's here and it's cute and not too too small.
(the wide angle camera lens makes the screen look smaller than the keyboard, but that's an illusion.)


it runs on XP and i am struggling now to make that as invisible as possible.... turned off the stupid persistent update alerts, firewall, virus alerts, loaded firefox, t-bird, Tcl/tk, GIMP and my SantaFe Tclscript (it RUNS !!).

Aug.24.update

M got me to download and install ubuntu ahead of schedule ... it now boots to either OS.




---
posted some vintage pix from NYC...

NASCAR Driver Andrew S. gets New Wheels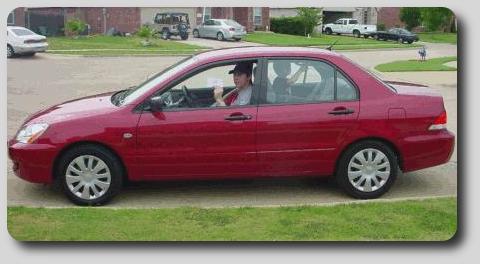 The legendary guy is shown here flashing a note signed by his mommy that says he is so handsome and smart and finished all his homework.
---
.... and the rest of the Texas clan ...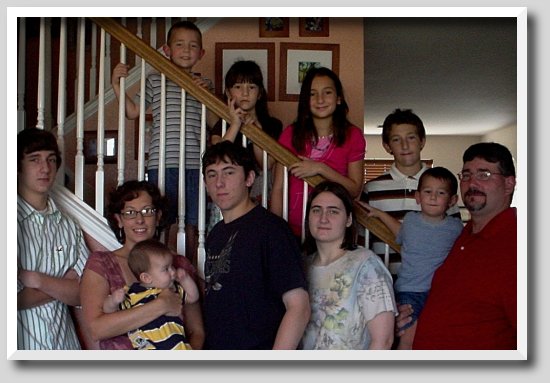 ---
Aug.25.2008

Chris got me thinking about my SocSec calcs, plus I have Junior Achievement starting up soon, so I whipped out a Javascript page for the kids to play with money calculations.

Aug.26.2008

Added a Javascript calculator to my home heating page.

Aug.27.2008

Added a web page about wind turbines for home use , including a Javascript calculator. This is based on a homework assignment I use in Thermo, but I "humanized" the language. Warning: some math required !!
---
Man in Black (MIB): Mr. Leo?
me: huh?
MIB: David Leo?
me: huh?
MIB: We're from Homeland Security and...
me: from who...?
MIB: we scanned your home network through our Google partnership and ....
me: what?
MIB: we found US Navy communications and data on your computers.
me: well ... so .... yeh, I used to be an engineer.
MIB: Well, sir, do you have authorization to have this data?
me: um.... well .... the Navy paid me to do those analyses, so i'm thinking yeh, I have the ....
MIB: Sir.... sir....Mr. Leo ..... the analyses are completed and you are retired?
me: Yeh.... I guess....yeh.
MIB: Sir, why are you maintaining this data?
me: I guess 'cause people ask me questions ......
MIB: [interrupting] Sir [.... long pause]
me: yeh?
MIB: We see that your web browser bookmark file shows the AlJazeera news website bookmarked.
me: yeh.... so ....?
MIB: Sir, why is that?
me: Because I like to get everyone's spin on the .... uh .... "news" they call it.
Knock on door. 2nd man in black sticks his head in....
MIB2: The plane's ready .... take him out....

[scuffle .... I loose....]

[6 years later, somewhere offshore .....]

Man in Black (MIB): Mr. Leo?
me: huh?
MIB: Tell us again, why didn't you .......

[Fade to Black]
---
The Ghosthunters finally got an image of one....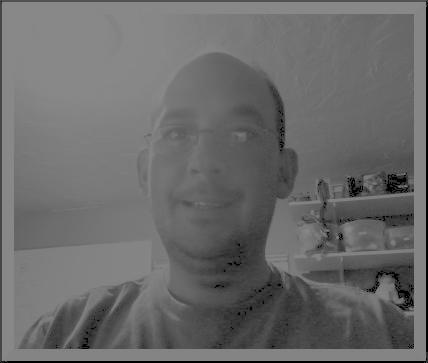 ---
Aug.30.2008
Ms French asked me to do the windtunnel thing in her class in October, so I dug up some old bones, cleaned them up and started a new web page on the windtunnel.
Other places to visit....
---
The Names of 4000 Dead US Soldiers
---