[Later]
From the window, I could see her waiting in the parking lot with her overnight bag. If this was God's chariot calling me home, I'd be crazy to miss the flight, right ? . . . but what if it was just another chick who realized how cool I am and was just out for the kicks of it ?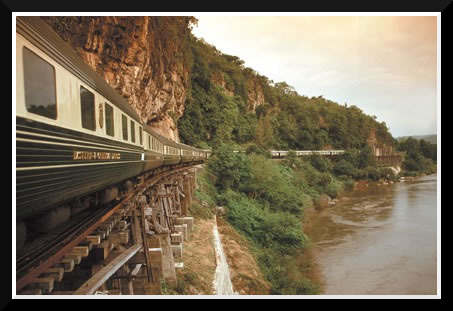 In the end, I had to break her heart. I called down to the desk, told them to crate up my balloon and store it and book me immediate passage on The Orient Express. Two hours later, I was speeding through France, heading to Spain.

- - - - - - - - - - - - - - - - - - - - -
Oh, it feels just like home. I haven't been on the "Express" since the olden days. That's when people knew had to travel, alright. Before high-altitude jets, long lines in crowded airports, security lines, x-ray searches. Before highways crowded with SUV's and RV's racing alongside 18-wheelers and cement mixers. Before all of that insanity there were luxury ships, of course, and there was this Orient Express.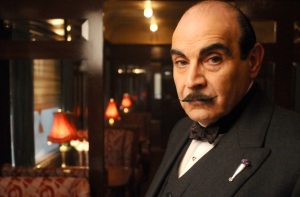 The dining car was empty when I got there, but filled up shortly. Turns out that an old friend, a frequent (and notable) Express passenger, was aboard and joined me for an early dinner. He had a murder on his hands and needed my perspective on the evidence.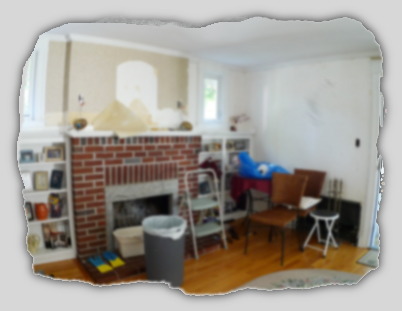 But before I tell the story of our discussion, let me tell you about the dream that I had before I came into the dining car. I dreamt that I am not really on The Orient Express, but actually that I am at home stripping off the living room wallpaper. It was vague, weird, awful. Chemicals, scraping blades, smells, burning eyes. Happily I woke up and now am back to reality, on this famous train and about to meet my old friend, the great detective, Hercule Poirot.
Hercule: Mon vieil ami, comment allez-vous?
Me: I am doing fine. Traveling 'round the world for a month (my daughter's idea !). Do something adventurous.
Hercule: C'est bien, mon ami. C'est bien. Comment est Debbie?
Me: She is fine. Well, fine when I left, anyway. She works, so she keeps busy.
Hercule: I will speak English, okay. I have a mystery on my hands. Not easy. Let's go over the evidence and, as in the old days, you can tell me what you think, heh?
Me: Ah, good. Like old times, Hercule. I solve the puzzle, you get the fame, heh ! [I laugh, and he snorts !]
[ Hercule spends two hours going over his folder of evidence and witness statements. It is not an easy puzzle, this one.]
Me: Let me sleep on this one, old friend. This is not so simple as I hoped.
Hercule: I am glad you say that. Not so simple by any means.

[Fade to Black]

[ . . . . 2AM]

Me: Ah ! ! Hercule, Hercule !
The Train Steward: Sir ! Sir ! it is 2AM !
Me: Tell Mr. Poirot I have his answer!
Steward: But, Sir . . .
Me: Get Mr. Poirot !
Steward: But, Sir . . .
Me: Get Mr. Poirot !

[We meet in the club car]

Me: The wallpaper, Hercule. Look at the photo of the wallpaper above the body. Look and see, my friend.
Hercule: Ah ! Yes ! The scratches! Like a cat's claws. So she killed him, after all.
Me: Oui, my good buddy, it was the maid who killed him.
Hercule: Again, we have solved it.
Me: Yes . . . we have solved it. Now . . . let's order some French toast for breakfast, heh !
Hercule: And "home fries", like America, heh?

Me: Hercule, where is the maid now? If she killed him, you must catch her.
Hercule: Ah, mon ami. She was last seen in a hotel parking lot in Paris just yesterday. Waiting for someone, and holding only an small overnight bag.
[I smiled and kept the next thought to myself.]