Itzhak Perlman
(Dec.06.2008)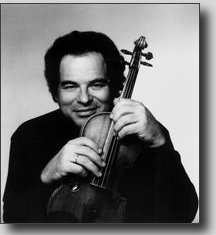 Mr. Perlman is arguably the great violinist of my generation, some say of the 20th century. He got polio at an early age, and thereafter hobbled around in a wheelchair and on crutches.
It was, they say, an agonizing experience watching him work his way across the stage to his seat before a performance..... it took a long time and was a lesson in reality and humility for everyone in the concert hall.
So.... one concert, he hobbles across to his seat and the audience watches in respect and expectation..... tap tap.... the conductor strikes up the orchestra .... at a point, Mr. Perlman takes the lead and his hands work their magic ... they say he was smokin' that night.
A loud twanging sound pops out of his violin ..... stop .... everyone knew what happened.... a string broke.
What now .... watch him hobble off and change strings and retune and hobble back...?
He tells the conductor to restart back at his entrance point and he finishes the entire piece on 3 strings, transposing the music on-the-fly in his head.
And legend has it that he was more magnificent on 3 strings than he was on 4.
After the explosion of applause dies down he says something to the effect that "sometimes you just go with what you got".