. . . continued further . . .
As another example, consider our (me, M, D and C) discussions about the upcoming 2011 family gathering. My "pursuit of perfection" is choking the party weekend to death. I have people who are jumping in with ideas and volunteering work and I am Mr. Negativity because "this can go wrong" . . . "what is plan B when this happens?" . . . "what about . . .? . . . what do we do then ? " . . . .
For example, M&C volunteered to tour people around Boston if they can drive and train themselves down there. And I almost killed the idea with the statement . . . "What if someone takes the wrong exit at the Concord rotary? What do you do when you meet in Boston and find (by cell phone) that he/she is lost 30 miles out?"
There is a wonderful scene in the (fabulous) sci-fi series "Firefly". One of the ship's trusted crew is talking to the Captain who is lamenting his own decisions . . .
Crewmember: "Shouldn't be so hard on yourself, Captain."
Captain (sincerely and worried): "I just wish I was better at this job."
Crewmember: " You're a good captain, Sir . . . you just gotta trust your people more than you do."

Pursuing perfection is a cruel myth, and . . . . thinking that you are the only person to get the ship were it needs to go is just plain stupid.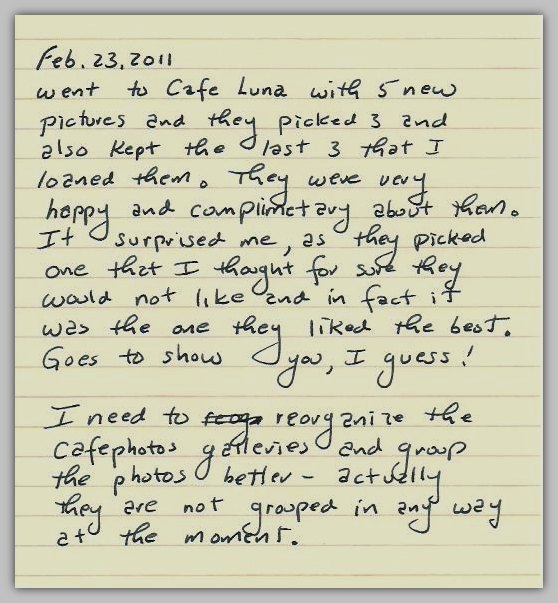 Two Women Photographer / Artists
At the moment, there are two people who are strong forces on my photographic ideas. Both are women, and their images stand at opposite edges of the universe. The images of one woman are hopelessly sweet . . . the images of the other woman? . . . well beyond the edge of the world as we "average" people see things. The absolute perfection of the "sweet" lady (who is Lara Rossignol) is humbling, as she takes photos I will never get to in my lifetime. The out-of-bounds photos of the "edgy" lady (who is Kelly Rae Daugherty) are inspirations to step out of the box and get as crazy as you dare to be with that image.
They both have websites, of course.
Lara Rossignol's sites are very nice to read and explore, and pleasant on your eyes and mind:
Piewacket
and
Rossignol
Kelly Rae's website is not easy on your mind or your eyes, so proceed at your own risk (and don't send me your therapy bills):
KellyRae

Kelly is on the Leica forum, which is like feeding the lamb of creativity to the lions of old world conservatism, and I (and a few others) enjoy fighting off the old lions and telling Kelly to push that boundary out as far as she dares. . . . She just had her first gallery show at the San Fransisco (where else ?) Museum of Modern Art.
From Lara, I steal her vision of colors and composition. From Kelly I steal her use of light and the boldness to shoot what I want to shoot and stop worrying about "will people think it's a nice picture?".
Old Movies
Weather is horrid, Deb is working then going out with her friends.
I shot two new pieces, one full of old movie nostalgia. . . . an old 8mm film camera from the collection + a screencap from "Grand Hotel". (Click the image for a larger version).