Dave's Journal, Feb 2014
Well, I have fallen back into some bad eating habits, and the evidence is shown over there on the right. Virgil's is an excellent "gourmet" root beer; maybe too much sugar if you drink it every day? Maybe.
That's a Kayem all beef, natural casing beauty (I steamed them today) wrapped in a slice of mozarella and topped with an artichoke relish. Two of these, and a bottle of Virgil's will hold you 'til dinner time.
It's still winter here of course, and a new snow storm (8"-12") will hit overnight. Can't get depressed about it, but I sure ain't happy about it either.
Sold some photo gear, but decided to hold onto the Nikon camera - I think I am over my bout of "Fuji Fever" for now. Had the Nikkor 24mm lens boxed and wrapped ready to ship to Pittsburg, and the guy says that his snowblower broke and his wife says he needs the money to fix that and not to buy more photo gear . . . wives are a pain, huh. But the lens is so well wrapped, I am going to leave it in the box, ready to sell and ship (I have 7 other Nikkor lenses to help me get by).
Mike wants me to improve the wit and charm of my journal pages here, and he thinks it's my writing skills holding me back from that. So he's recommending this weeklong writer's class: Writing Class. I am imagining me sitting on a hillside in Tuscany in June just pondering great ideas for better stories. In fact, right there may be the storyline for the next chapter of my "What if . . . " series !
---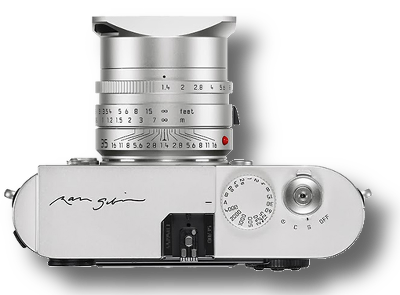 Well, whenever I run of of weird stuff to write about, I just tap into what Leica is up to!
That digital camera there on the left only makes black and white pictures (no color). It goes for $8,000 if you are willing to wait on the 18 month list to get one. But wait!, I'm not done yet.
See that scratching on the top plate (on the left)? That is the engraved signature of a famous photographer. Leica made 35 of the special cameras and sold all 35 of them within 5 minutes of the announcement. For $28,000 each.
Well . . . now we know who the 35 richest stupid people are, don't we !
I am going to leave the name off this entry, but this is a clip from an email I got a few minutes ago from someone we love who lives in Arizona . . .
"just heard from the surgeon's office the pathology report shows that my lymph nodes are negative. . . . clear of cancer. . . . . thank you Lord . . . thank you St. Agatha . . . .thank you St. Peregrine . . . and thanks, mostly to all MY PRAYER WARRIORS for your continued prayers.
The Back Yard This Morning


We got 12" today, but it was not very cold or windy, so snowblowing the driveway was not bad. Then I did round the garage and a path across the back yard. You can't see my path in the picture above, because I made the picture first !. But you can see a green garden hose that is kind of hanging on the bird feeder post, between the shed and that green cart with red wheels. Why do I point that out? Because . . . .
Before this morning, if you had said "I wonder what it would be like to run over a garden hose (buried in the snow) with a snowblower? I mean, how badly would a hose (filled with ice) get tangled, wrapped around and jammed into the blades? ", I would not have been able to give you a good answer.
---
Added some new data to my movie reviews.
---
The Slave Ship (1840), JMW Turner

This painting grabs you from about 30 feet away (it grabbed me today!). I stared at it a lot before reading the description. Those are bodies and arms and legs that you see tumbling in the stormy sea. They are slaves thrown overboard to lighten the ship before the full storm hits. It's a true story.
In fact one British sea captian simply threw 133 slaves overboard at sea to collect the insurance he had taken out on them before the voyage (it was not illegal to do that). Apparently this practice enraged some people, but not everyone. As I stared at the painting a while, it definitely enraged me. I thought "That could be one of our grandparents being thrown overboard on their way to the USA."
Turns out that this painting had a big impact on the abolishionist movement in England. And then I saw the connection between these kind of paintings and the photographs of battlefield and riot and terrorist correspondents today. Modern day reporter photos help change the world, and way back when these kind of paintings did the same. Not every classic painting was meant to decorate someone's parlor. Some were meant to shock people into making social changes. For some reason, I knew that of course, but it never really sank in until today.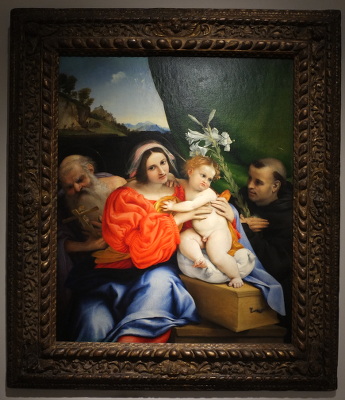 The museum has this continual project going to clean the centuries of grime and oxidation that covers all the old paintings. We are used to seeing rather dull paintings from the olden days, but that is not actually what they looked like when they were new. We saw this going on in the Vatican and a few other art museums in Italy as well. Some of Michaelangelo's work was partially cleaned and the difference is incredible. The colors jump off the canvas ! The picture on the right was the only cleaned one today in one of the galleries. It was definitely the showpiece of the room, despite that it may not be the "greatest work of art" in the room.
(As a footnote; some people are actually complaining about doing this, because they grew up looking at dull, dark paintings, and these "new" vibrant colors are taking them off balance. Again, all that's done here is very carefully cleaning away layers of grime and oxidized pigment - like washing and waxing your car. These are not being re-painted !)
By the way . . . do I like this painting? No, not very much ! The colors of course are vibrant and beautiful, the body positions are excellent, the symbolism of the coffin and the crucifix are . . . well, symbolic (which is neither good nor bad). What I don't like (and don't like a lot!) is that the billowing shocking orange blouse overwhelms the picture. It looks like a magazine ad for the blouse!
I imagine her with a simple, more subdued blouse and that would make a much nicer portrait of Mary and Jesus with those two guys supporting the composition.
(On the other hand, you don't see any of my stuff hanging in the Museum of Fine Art, now do you?)
---
Well, neither one of us can afford the original oil paintings we see in museums, but here is a good place to order a human-painted copy fo whatever you were looking for:
The 1st Art Gallery
It's coming . . . . . . . . . . . . . . . . and so is a big storm !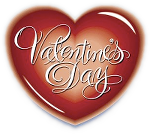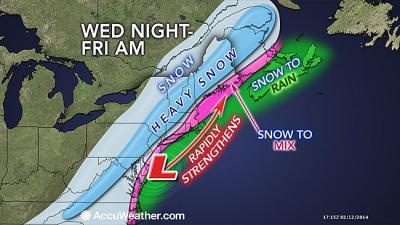 We are as ready as possible, I guess. The worry item is the 1/4" of ice they are predicting on top of the 12"-16" of snow. It's the ice that causes branches to break and take down power lines.
Stuck in the house, I have time to work on whatever it is that I'll submit for this years art museum show. I have a few concepts to explore. Like nothing I have done before. "Psychiatrically abstract" stuff is what I am calling it. (Another good term for it might be "cheap psychotic trash" !)
This is backround experiment #6928 . . .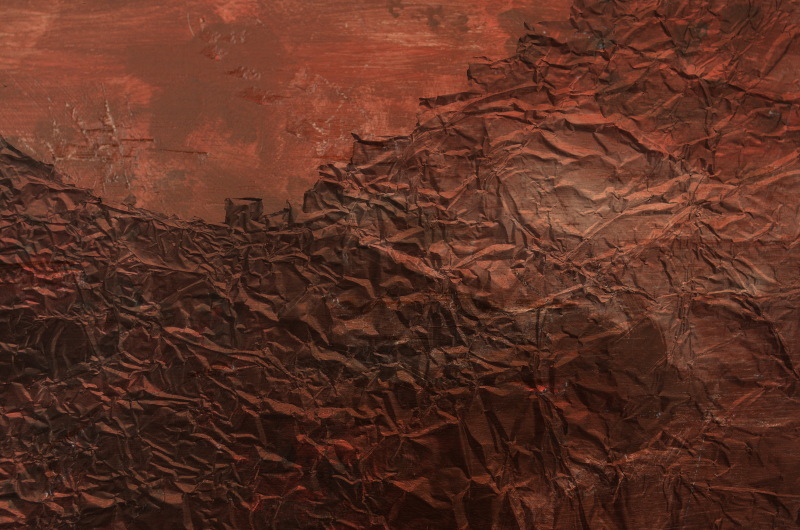 Some people claim that it's just a piece of crumpled aluminum foil stretched over a board and tinted on a computer, but I'm pretty sure that it's something much more exotic than that !
The good news is that Catherine is back home (in Texas) safe and sound.
Here are some postcards she sent back while out there "on vacation" ! !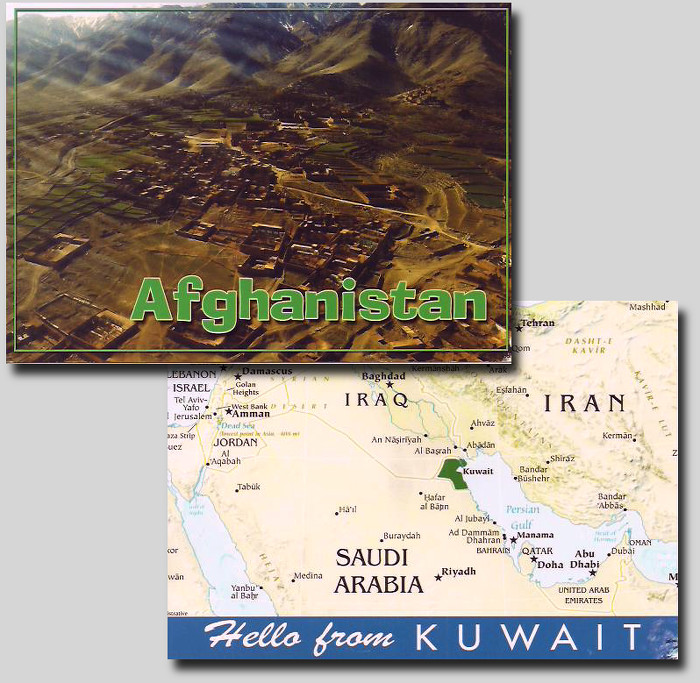 After a few days of experimenting for my 2014 art exhibit entry, I have decided that my best skill is taking pictures of things, and not actually creating "objects of art". But I am having fun with playdough (I made the stuff !) and glass eyes and the GIMP program.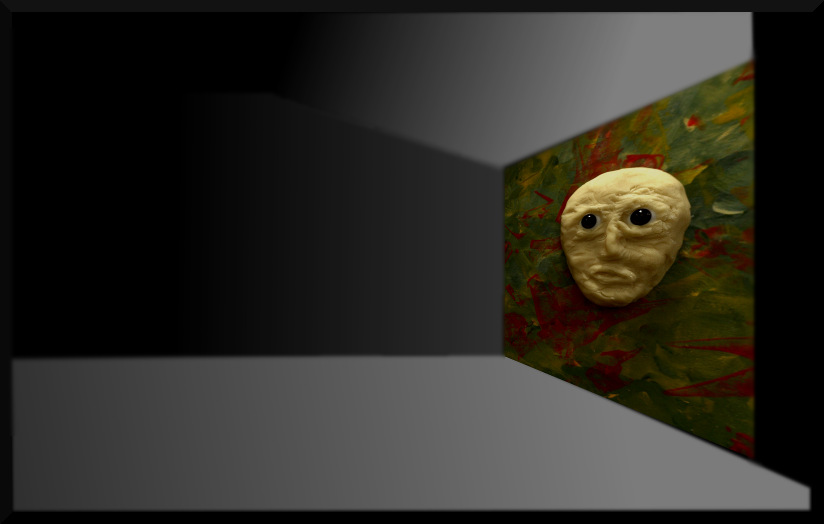 This is a really bad time of year to try to make nice pictures outdoors. It is ugly out there !!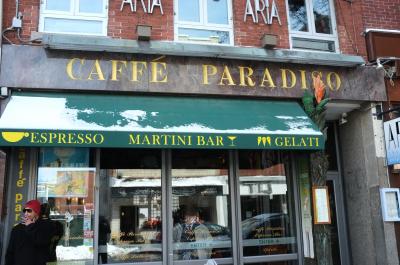 Well, Deb went on a bus trip with her bank crew to Foxwood; Mike is working in his attic; John B. is breaking ice dams on his mother's roof. I trek'd into Boston's North End. Cold, sunny, lots of snow on the ground, and pretty much it was me and the locals today.
I had a sandwich, a chocolate cannoli and a double espresso at Cafe Paradiso that Mike and I have been to before. Ate at the bar.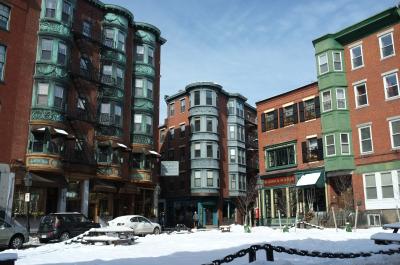 That little square in the picture on the left is where (about 110 years ago) Grandpa Leo lived for 3 years (if I recall correctly). Then he went back to Italy and picked up his girlfriend (Grandma Leo) and settled in New York when they returned. (Mike will correct me if I got some of the timing wrong.)
Then I walked down to the Marriot waterfront, where the cruises operate. The boats were wrapped in plastic (literally) for the winter. Beautiful sunny day.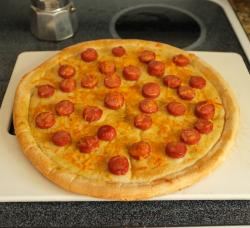 On the train ride home, I dreamt up this intriguing pizza recipe. Olive oil topped with cumin, curry and ground mustard. Diced with hotdog pieces and sprinkled with cheddar cheese. Yes, I ate it and it was pretty darn delicious !!
Heavy
Today I love all kinds of music (you should see my Youtube "favorites" list!)
The first music I loved was the swing and jazz on my parents 78RPM's. The next step in my favorites was early 1950's popular radio tunes (stiil, the stuff my parents listened to). The next step for me was DooWop, and I really really loved DooWop. Mom and Dad thought it was a joke. For me, the "heavier" the beat and the wider the harmony (from bass to falsetto), the more I loved it.
Here is one of the best heavy DooWop tunes. Made out of solid gold, every slow heavy painful beat of it: Sweetest One
. . . . after pushing some of the 10,000lbs of snow and ice off the porch roof, I noticed how nice my Peruvian yak herders hat looked lying there on the bed . . .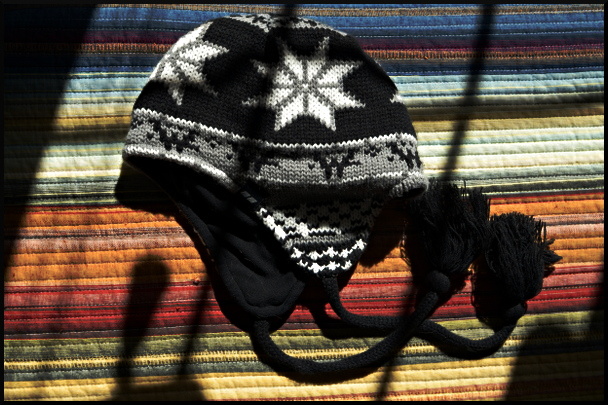 The day is beautiful (sunny and almost 50F outside), but freezing rain is coming tonight, so get your smiles in while you can, huh!
File This Under "This is a Joke, Right?"
I get these expensive glossy catalogs in the mail, a few times a year. I love them. I hate them. I sometimes think they are fake (do people really spend this much money on stuff?).
I try to wrap my head around this kind of self-indulgence, and the allegedly "horrible" state of the US economy, the job market, the average family income, etc etc etc. The pieces just don't fit into the same puzzle, do they?
From today's catalog, below is a light throw blanket (probably $30 at Target, or free if you swipe one from your next airplane flight) that sells for $185; add the little strap to carry it and the price gets to $295.
Next is a plain cotton button-collar shirt ($40 for a nice one at JC Penney) that goes for $160 and looks like you slept in it at your work desk (which may get you the raise you'll need to pay for the shirt!).
I know, I know, I am missing the point. I must be. Because I just don't get it.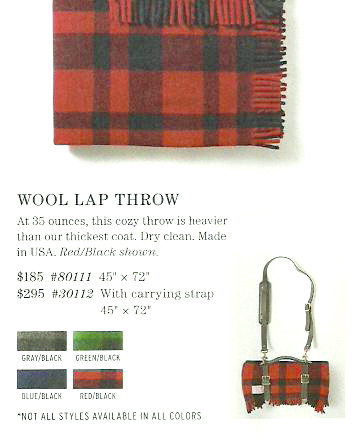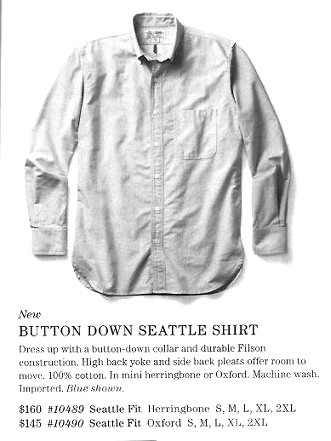 The world outside is pretty in small pieces, if you don't look at the mud, ice and slush . . .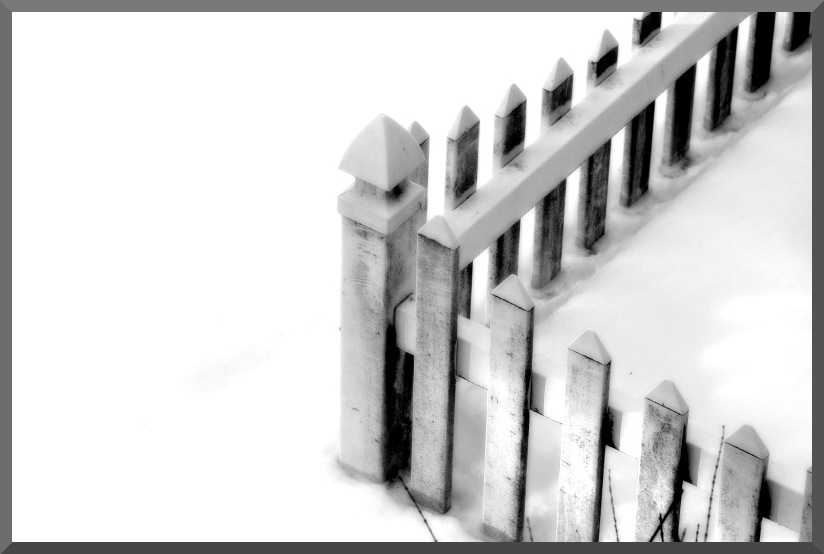 . . . . and apply some image processing ! !
---
I have discovered Portlandia, and nearly died laughing last night. When I went upstairs to tell Debbie about it, I had a fit of laughing that I was literally breathless, rolling on the bed, speechless, laughing. It took a full 5 minutes for me to calm down and talk about it.
Portlandia is to TV comedy what Twin Peaks was to TV drama.
Lost in TV Land . . . .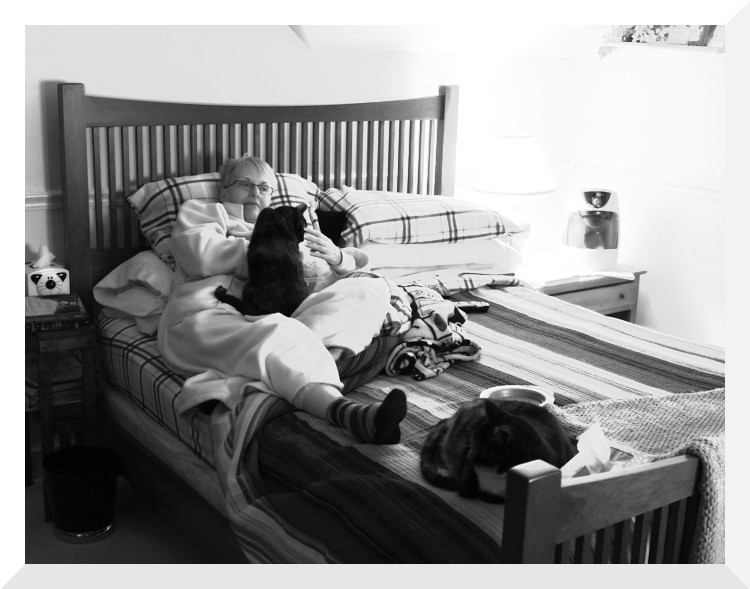 I cannot stop laughing at Portlandia. It is hysterical. It is weird. It is unexpected, "out of the box" skits about weird people. Nice people but weird! You either really love this stuff or you absolutely hate this stuff.
---