The Geese, the Window and Rituals Lost In Antiquity
this story has stuck with me for forty years, it was told by konrad lorenz in his "studies on animal and human behavior" that had a big impact on me ages ago.
dr. lorenz was an animal behaviorist who lived with and studied geese, and used their behavior to explain why people and cultures do what they do.... he tells this story.....
each day, the geese (that slept in his bedroom) would get up with him and head downstairs with him. he would look out the window at the bottom of the stairs, then go into the kitchen and get his coffee..... and the geese (each one of them) would do the same.... jump up on the window, look out, jump down and go into the kitchen.
well, as time went by, he "remodeled" his cabin and closed up the window with boards.
but he noticed that every morning the geese still jumped up on the window sill and struggle to look out the boarded up window, then jump down and go into the kitchen.
well .... more time went buy and he tore out the whole window and put a plane wall there (no remnant of a window).
the geese, now got to the bottom of the stairs each morning, shuffled around facing the wall looking for a window that was not there, and then went into the kitchen.
then, the most peculiar thing happened..... the old geese died (the ones who were there when the window was there) and after a time then the next generation died.... so that at this point not one of the living geeses had ever seen the original glass window or the boarded up window.
yet .... every morning, every goose would come down, face the wall, shuffle and wiggle their necks looking up, and then procede into the kitchen.
dr lorenz called this a ritual lost in antiquity ... a cultural ritual that continues but whose true meaning is lost forever.
the irony of the story ...... every morning i walk downstairs, look out the window above the front door to check the weather and i think of dr lorenz's geese, then i go into the kitchen and make my coffee..... and i am certain to do this every day for the rest of my life..... even if someday someone closes up that window..... i will look at the door and think of the geese before i get my coffee. so every morning i share a ritual with dr lorenz's geese that have all been dead at least 50 years now.
that's a ritual whose meaning is lost in antiquity .... a guy in leominster does the same thing that geese (he never saw ! )did in austria fifty years ago and he has no reasonable explanation for it except that it's a daily ritual before he gets his coffee.
... maybe a pet goose would help me kick the habit....
What started me rambling last night on the ritual of the geese....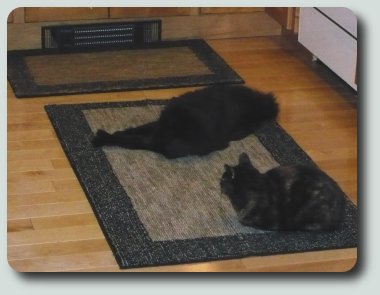 was zak and abby.... as shown here in their nightly ritual, originally started by abby.
some months ago, she started sitting alone by the heater under the sink (i think to be warm) at about 9:00 at night .... zak's favorite spot at that hour was upstairs. and because abby is skittish, if i went near the kitchen, she would bolt out of there. (zak on the other hand won't move even for an oncoming train).
after a while (months?) though, zak started sitting with her when she went over their at night. at first i thought there was a mouse afoot, but have since ruled that out after watching them sit together.
their behaviour is not necessarily unusual, except that if i walk toward the kitchen, now both of them bolt out of there together .... zak !!! who is my buddy and won't leave my side all day, shoots away from me alongside abby. that is the ritual every night, and there is no good reason for it...... that i am aware of.
the irony here is that zak has learned the ritual of sitting there with abby and running away when his best buddy (me !) comes near ..... AND..... i have learned to engage the ritual every night by walking toward them to see if the ritual is still in place...... and wondering why.
and i just realized that i have a morning ritual with no meaning (thinking of geese as i walk by the front door to get my coffee) and a nightly ritual (testing abby and zaks ritual).
i am sure dr. lorenz deserved his nobel prize, but i wish i never read the geese story..... this lost ritual concept is driving me nuts.