Lunch with Mike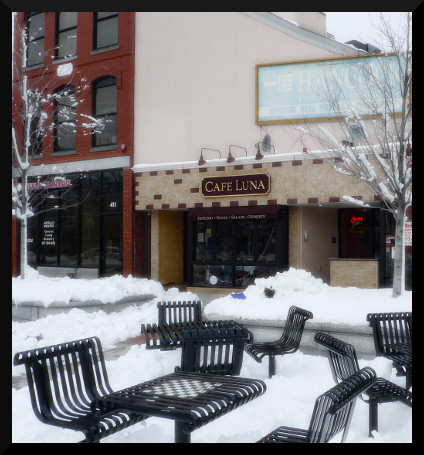 At M's suggestion, I ventured to Cambridge meet him for lunch at Cafe Luna. It was (as you might have expected) too excellent. I had a salad called Davio (!) and it was loaded with wonderful Mediteranian . . . um . . . stuff. Then he tells me that he made a deal with the owner to look at some of my photo art and maybe hang it there, and I met her and we chatted about frame size and color vs greyscale, and I have high hopes that 2 or 3 of my pieces will be hanging there soon. (Side note: also at Mike's doings, a local coffee house is also waiting for 3 of my pieces that are sitting over there on the floor at the moment.)
Then we spent some time in the MIT Museum, looking at intelligent robots, stupid computers, silly students and crazy professors, and I thought about how much I miss being a college teacher and wished I could turn the clock back 35 years.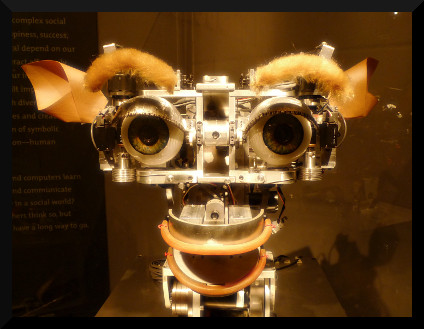 On the way home, M planted a thought in my head about editing HTML tags differently than I do it now . . . that will drive me nuts off course until I figure out how to do it and is that actually going to be a better way ? ? . . . if nothing else, it will get me back into coding Tcl again !
---
Dancing Bears
Am working up a redesign for the "Tree of the Dancing Bears" which is a banner with a little bear for each person in the generations. It started 40+ years ago and it's kind of out of hand as the family grows. In the back of my mind is some kind of computerized version of it. Played around by adding bear images to the Family Tree Spreadsheet, but it looked stupid.
Chrissy has graciously volunteered to help with the banner design and production. Today I laid out each branch and verified who did not have a bear . . . the excitement is killing me.
The King's Speech
The irony here is that a deaf guy (me) watched a movie (NOT subtitled) about a guy who can't talk ! The headset "for the hearing impaired" that the theater gave me was marginally useful for a person with good hearing and worse than utterly useless to a person with impaired hearing.
However, the movie was so well made that I could sense the storyline and get some of the drama from the body language and facial expressions (and a few key moment whispers from Debbie).
Actually the Dept. of Justice is about to pass a law requirng all theaters to caption 50% of the movies that they show. But, of course the movie industry is fighting it and it will probably die before birth. God bless capitalism.
Signs of the Zodiak
The CSM is not noted for its wry humor, but they have a smirky article on the upset in the Zodiak signs.
The short version is that, due the ever changing nature of the Earth's wobble, the astrological signs are not in the correct place any more . . . they are now about one month wrong.
"Thanks to Earth's wobble, astrological signs are, well, bunk. (Or even more bunk than you might expect.) Astrological signs are determined by the position of the sun relative to certain constellations on a person's day of birth. The problem is, the positions were determined more than 2,000 years ago. Nowadays, the stars have shifted in the night sky so much that horoscope signs are nearly a month off."
And the CSM has also identified a few new signs of the Zodiak, based on the latest astronomical observations:

Flamingo . . . . Godzilla . . . and . . . my personal favorite.
Classrooms in Miami / Education in the USA
A Florida law went into effect last year that limits high school classes to a maximum of 25 students. (I know from experience that teacher effectiveness starts dropping at 12 students and is "in the basement" at 25 students.) So . . . what to do? . . . what to do? . . . "I know, I know . . . the law does not cover on-line courses . . . let's sign half the kids to rooms of computers (no instructors) that are logged into on-line courses and the kids can teach themselves ! " . . . and, you figured out, that's what they did. Instead of putting 25 kids in a class with a teacher, they put half the kids in the school in classes of 40 students with no teacher!
I was going to rant on "Education in the USA", but it doesn't matter. This is the USA after all . . . we have the freedom (and obviously, the desire) to embrace stupidity as the new social norm.
---
the revised bear tree is starting to take shape . . .

The problem is that it comes out to 15feet long . . . so I think we'll just add some velcro strips to the existing poster and call it quits.
---
Cafe Photos
As of yesterday, I have my photo-artwork hanging in Chaibo's, a local cafe and another place in Cambridge is waiting for me to get them a half dozen pieces as well. So, I have a new life . . . photo-artist !
And a new domain name for my newlife CafePhotos.net, thanks to Mike's fast work, I am up and running on his server. The cafes let local photographers and artists hang their stuff up for 6-8 weeks (with a price tag) and maybe a customer will buy something off the wall. The cafe gets free decor that is constantly changing, and the photographer gets a free gallery to show his stuff.
That "cafe photo" over there is titled "Lexi's Eyes.
There is an enormous difference between web-quality images and actual print-quality images, and I am having to go back to original digital files and reconstruct all the "magic" that I input to each one and then resave it at print quality . . . a killing amount of work and I promise never to shoot web-quality crap again ! !
Once the web site is actually ready for prime time, with all the stuff I want to display, I e-mail a link to a cafe and have them decide if any pictures would look good in their place. I am imagining that, over time, I will amass a collection of framed pictures that will just rotate around the various coffee houses that tie in with me.
(that's the plan anyway

)
Walkout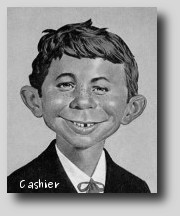 well, i walked off line and left another store today, Michael's Craft store. . . . 2 lines, i opt for the left one . . . lady in front of me has 75 little paint brushes worth 29¢ each (she must be a grade school teacher). . . swipes her credit card . . . . ENTER . . . choke . . . ENTER . . . choke . . . hands card to cashier who manually types in stuff . . . choke . . . talk talk talk . . . cashier begins to enter each brush one at a time, and it's taking 5-7 seconds per brush (i counted) and it takes slightly longer with each brush . . . patience patience . . . they get to 30 . . . i turn around and see the other line has 6 people now and i would have been in my car had i chosen that line . . . scan enter wait scan enter wait . . . . i slip out of line, leave the cart against the wall and exit . . . turn around and they are still waiting for paint brush #31 to register.
---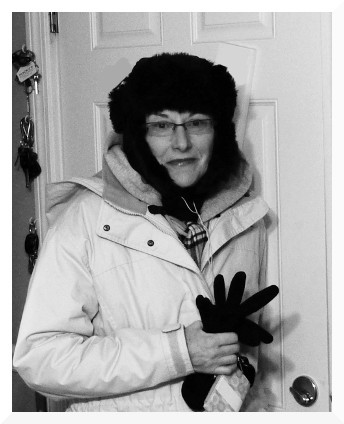 when you go out for a morning walk in 100F weather, fashion takes a back seat to comfort and warmth.
Jan.27.1011
we are buried in snow, and i have to say that today was the heaviest snowblowing + shoveling day in many a year for me . . . a big part due to shoveling the winters accumulation of snow, slush and ice off the flat roof of the porch . . . and the 4'X6' wall of packed snow the city plow wedged at the bottom of the driveway.
but it's done and i'm washing away the memories with a Wachusset Country Ale.
Mike Is Now A Citizen of The USA and Italy ! !
his Italian birth certificate (! !) came yesterday. . . . free health care for life + jobs in the EU + the international chicks are hot for us Italian dudes.
Congratulazioni Michael!