Photographing the Police is Illegal in Massachusetts
This is the most outrageous, offensive law that I know of . . . .
In response to a flood of Facebook and YouTube videos that depict police abuse, a new trend in law enforcement is gaining popularity. In at least three states, it is now illegal to record any on-duty police officer.
Illinois, Massachusetts, and Maryland are among the 12 states in which all parties must consent for a recording to be legal unless, as with TV news crews, it is obvious to all that recording is underway. Since the police do not consent, the camera-wielder can be arrested. Most all-party-consent states also include an exception for recording in public places where "no expectation of privacy exists" (Illinois does not) but in practice this exception is not being recognized.
In Chicago, a guy was arrested on a misdemeanor charge that was dropped, but now faces 4 - 15 years in prison on the felony charge that he recorded his arrest on his cell phone ! !
God Save America !
---
Walmart . . . at it again
The NYTimes has an article about Walmart offering it's employess a 15% discount if they take on-line college courses from a college that Walmart has a contract with. A degree in retailing will cost the employee $24,000 after the discount. . . . Walmart pays it's full time employees $11.75 / hour ! . . . that's $24,440 / year (gross income for a full time employee). . . . I am wondering how many people who are trying to live on $24,440 / year (after taxes, that's probably $20,000) are going to find the cash to drop $24,000 on a college degree so their salary may go up to $13.51 / hour.
In contrast to Walmart's 15% discount to take on-line courses from their one specified school . . . every one of my Wentworth students (all 12 years of them) were reimbursed 100% of their tuition (by their businesses) for every course they completed from any college, semester by semester . . . GE (my alma mater) did the same and even allowed us time off during working hours if that was the only available course. . . . those are what I consider serious education programs. The more I read it, the Walmart idea is an insulting sham.
One commentor on the article pretty much says what I think of Walmart . . .
. . . The Wal-Mart business model is based on providing substandard wages and benefits to its employees, engaging in blatant union busting and repression, and the importation of cheap and toxic products. It has single-handedly lowered the quality of living in communities throughout the US.
Wal-Mart could better serve its employees by offering them living wages and decent benefits instead of investing $50 million in a program that most of its employees will never be able to take advantage of.
PS . . . in praise of Walmart, let me say that I did use their men's room once in an "emergency" and it was very clean.
Budgets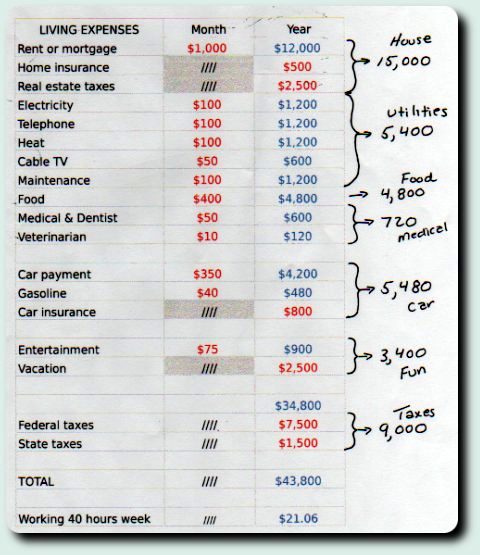 that reminds me of a topic that i do with my middle school kids . . . i have them make up a family budget for a year (they have no clue of course, but it's a good wake-up topic for them) . . . then i show them a budget for a typical family (lower middle economic class in their town), and show them how much income they will need to have a semi-decent lifestyle . . . .

my hope is to keep their sights aimed high and to look at the numbers ! ! ! and understand that you cannot have that life you expect by earning $12/hour.

some get it (great !) . . . some don't (sadly, we'll see these few in Walmart outfits one day).

in conclusion . . . . we should end this dumbing-ourselves-down, lower expectation, we-are-just-sheep trend we've been on for 20-30 years now . . . we expect and accept cheap products, bad service, low wages, bad working environments, lower educational achievements, stupid politicians, shamefully mindless "news" media, less-than-mindless TV programming . . . . we should demand more for (and from) ourselves and dump the politicians, people and businesses that are making the world worse than it used to be.
yeh . . . we should do this and we should do that . . . . people will shop at these big chains because the short term benefit is low prices and clean toilets . . . . and people will cut their education short because they can get a good job at Walmart, like their parents have . . . . . that's what i meant by "dumbing-ourselves-down".
from the New Yorker . . . .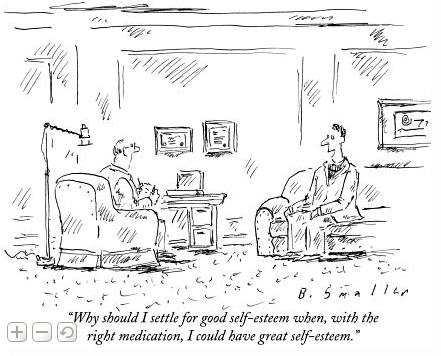 from the back yard . . . poor little robin (?) egg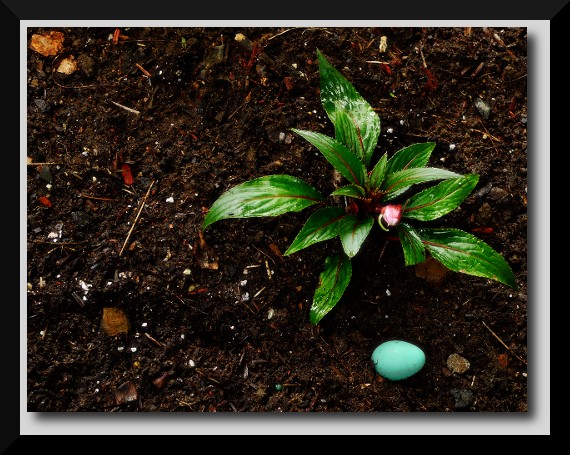 Vampires, the fake and the real . . .
these people are not vampires . . . they are teenie-bopper vampire wanna-be's who neck-nibble in the back of dad's pickup.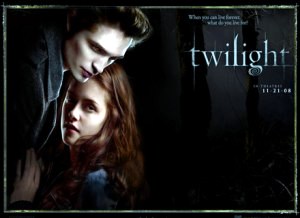 this is a Vampire . . . .
she killed 700 armed commandos in less than 15 minutes, using only a (magic) sword and wearing very fashionable, very memorable leather pants.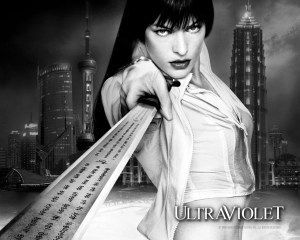 ---
Momentos ( a 5-minute film)
Thanks to Mike, this is the best 5 minutes you will have today: . . . Momentos.
(film is 5 minutes, the credits after go on and on. )
---
how bad is the Gulf of Mexico oil spill?
Mike raised this topic at breakfast, so i did some research just now:
normally, 1Billion (1,000,000,000) USgallons of crude oil leaks into the oceans every year around the world.
the estimates of the BP oil spill rates are absurdly divergent, ranging from 5,000 to 100,000 barrels per day. the most credible number seems to be 19,000 barrels so i will use that = 800,000 USgallons/day.
this means that the BP oil spill rate is 292,000,000 USgallons/year.
the BP oil spill, if it continued for a year would be a 30% increase in the total amount of oil spilled around the world.
so far 48,000,000 USgallons have spilled from this leak. . . that is 5% of the total normal annual leaks around the world.
this doesn't sound too bad, but then there is the fact that how much oil is spilled is relatively unimportant compared to where (and often, when) the oil is spilled.
footnote #1: total world crude oil production is about 74,000,000 barrels / day = 1,131,047,400,000 USgallons/year. . . . the oil leaked so far from the BP oil spill is utterly utterly microscopic compared to the total world oil production . . . (about 1 / 24,000 ) . . . but again, the envirnomental / social issue is "how much spinoff damage will this do to life and economics?" . . . yet again, the damage done may also be insignificant compared to the damage done by the 1,131,047,400,000 USgallons/year that don't get spilled but still spit fumes into the atmosphere.
footnote #2: the water pressure at that depth is 2200psi (151× the pressure up here in the atmosphere), the oil is flowing out under a pressure of 9000psi (612× the pressure up here in the atmosphere). Stopping something coming out at 9000psi is not any easy task, esp when it is a mile under water! As a referrence, the water pressure out of your garden house is slightly less than 60psi.
---
As quick as you can . . .
name the 3 best looking dudes in Texas . . . .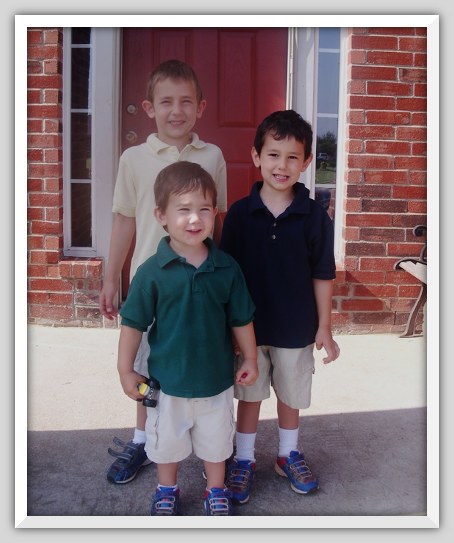 correct answer = Jacob, Ryan and Jack (in order of descending height ! )
---
Roses this morning . . .
---
pinewood derby, fort wayne, indiana, 1978
this classic has been completely restored . . .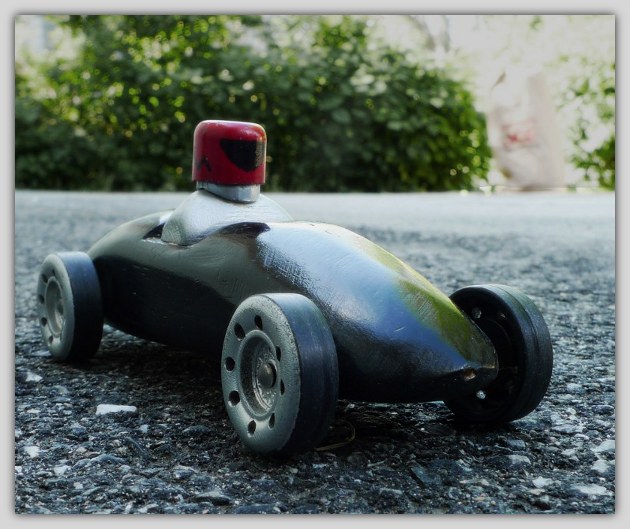 movies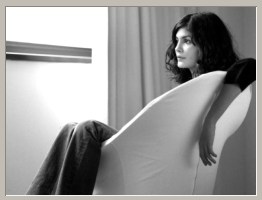 turned off "Slumdog Millionaire" after a while (too depressing) . . . did the same with "Tokyo Sonata" (which looked like it was heading for a very tragic end).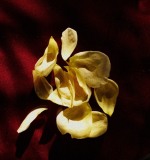 enjoyed "Coco before Chanel" (with Audrey Tautou), about Coco's early years . . . very neat film.


(rose petals on the porch table . . .)
8 days in 'Frisco
i'm sketching out our october vacation in san fransisco . . . 8 days there will cost more (per person) than 14 days in dublin, venice, florence and rome . . . but i am going anyway . . . life's too short and getting too shorter.
google chrome web browser
am test driving it today . . . not bad at all . . . faster than firefox and the interface is somehow nicer (?) or maybe i just need a change of scenery (?)
---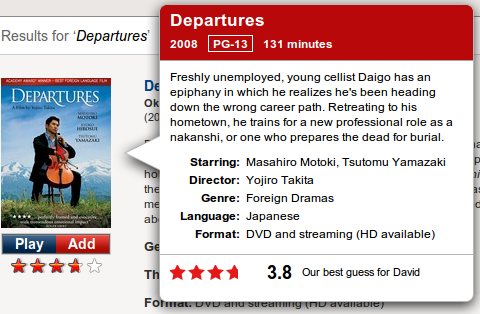 Departures . . . a lovely, excellent "small" movie, with an unsusual basic storyline . . . the directing is superb, the acting is elegant, the budget is zero . . . i will watch it again sometime . . . loved it.
the scenes where he is "preparing the dead for burial" (which is done in front of the family, at what we call "the wake") are utterly beautiful and emotional - much more loving than our experiences over here (they are in Japan).
---
Tal Wilkenfeld . . . .i stumbled into a Jeff Beck jam session on TV and i was completely blown away by the bass player . . . . i haven't seen anyone play bass like that since Ray Brown . . . she looks like she's 12, she's actually 21 or 22, Australian, dropped out of high school, flew to NYC and is becoming famous!
after that . . . watch the master . . . Ray Brown bass solo
---
today's artful creations . . .
built on photos from the back yard . . .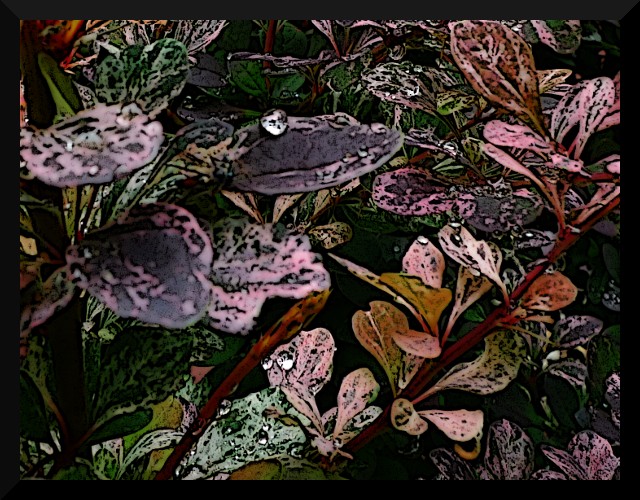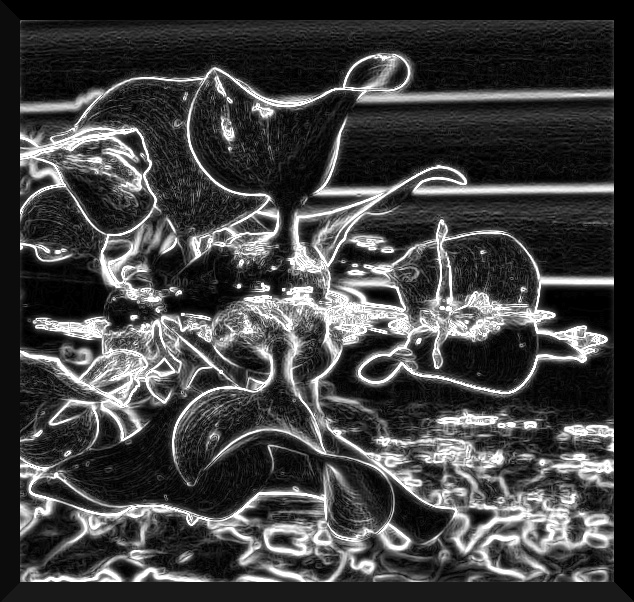 ---
feed me
him does this in early morning.
jumps on bed without no warning.
licks my face and shakes his head,
"it after six, get out of bed"
"i sleeping peaceful, can you see?."
"i hungry kitty, must feed me."
"go away" i say and say.
"feed me or me bad all day."
sits my chest and licks my face,
he meows like i'm disgrace.
"i sleeping . . . sleeping, let me be."
he say "i counting . . one . . two . . three !"
---
Happy Birthday, Mike ! !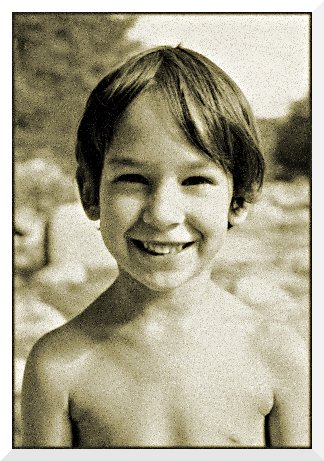 ---
"The Hand that Broke off the Statue of St. Francis, Again"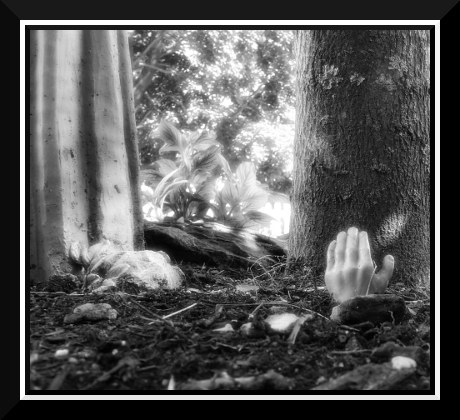 (the glue didn't work, i guess)
---