Dave's Journal, June 2015
The Sleepytime Newscast

Just before you fall asleep. You snuggle under the covers, fluff up that pillow and get ready to leave the world behind you for a few hours. Then your elbow hits the TV remote .....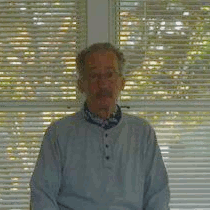 More good news when you wake up in the morning.
Sleep well.
---
And, in the morning, you pass by the magazine stand, pick up your copy of Vanity Fair and check out what Caitlin (fka "Bruce") Jenner looks like these days.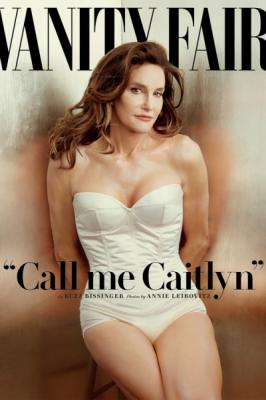 You get on the line at Starbucks. Thinking . . . thinking . . . "Has all the world gone mad? Have I fallen behind the times? Is the parade of my real life going down some other street? Am I really in a coma in some hospital and dreaming all of this? " ....... "What'll it be mister, your holding up the line here". . . . . That sound? Is that the cash register or was that the firing bolt of an AK-47 coming from behind you? . . . . "Well", you think, "we'll probably be on the news tonight".
---
June.02 Walk in the Woods
Well, not exactly "the woods" . . . just along the nature reserve trails. Good to get out of the house and feed the flies and mosquitos.
New England has plenty of these huge boulders that the glaciers cut away from the mountains as they "grew" and left them behind when they melted.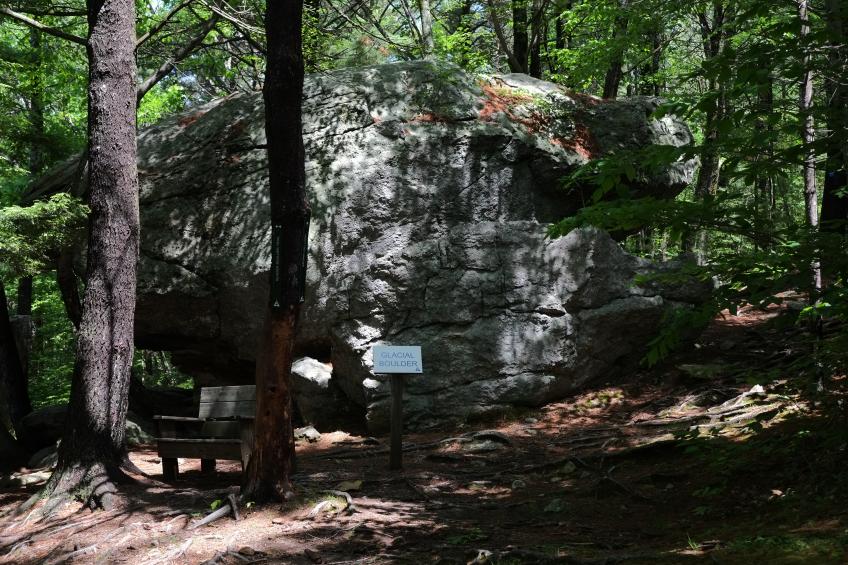 The boathouse and tractor barn.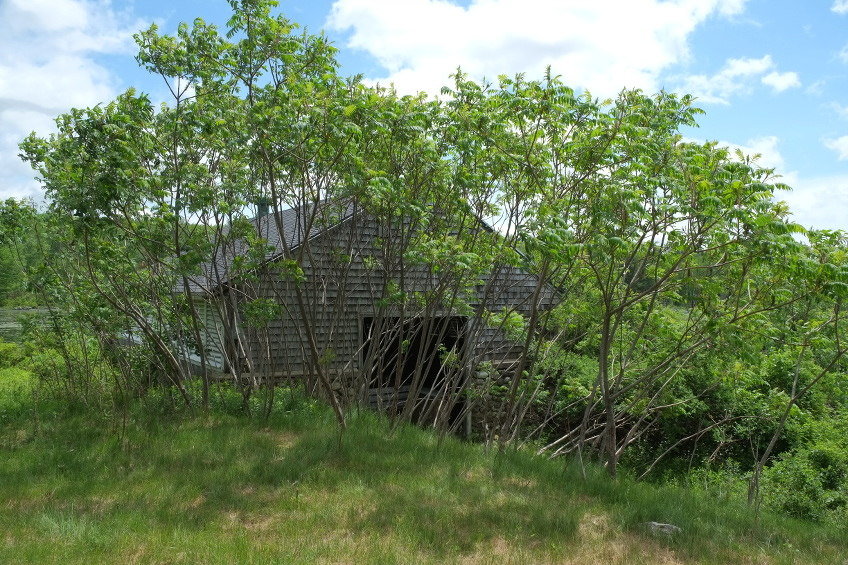 The canoes, ready for "Summer Camp Kids". (The pond has so many weeds, you could walk across it and not get your shoes wet !)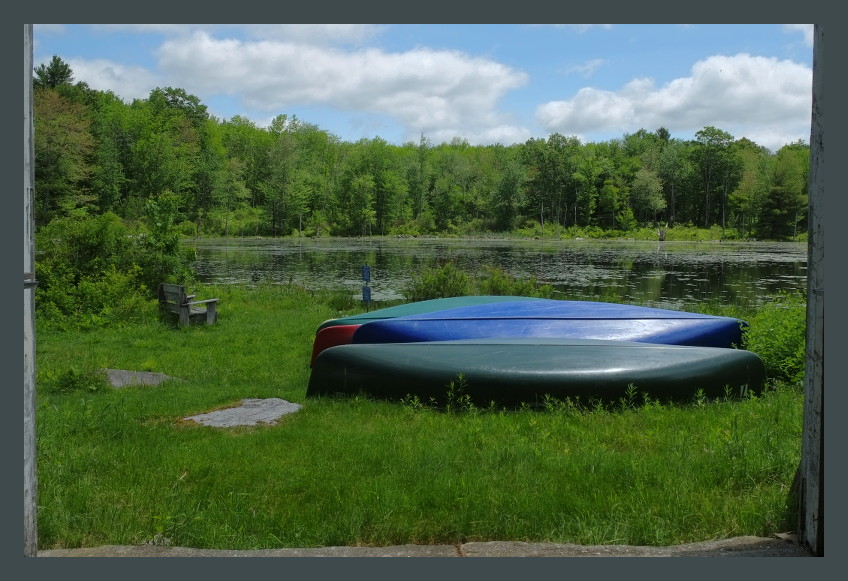 .....and this is your dose of abstract art for today.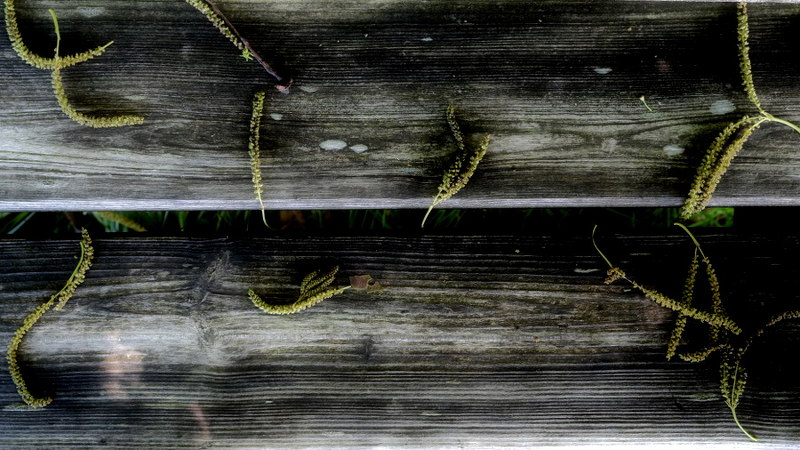 Okay, one more picture, then I'll stop for a while.
I don't normally shoot flowers, but I got on a kick today,
and here's one (from the yard) that I made to look painterly.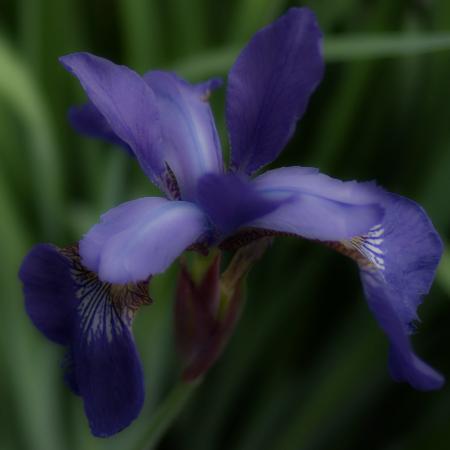 TEXT MESSAGE FROM DAVE: "Hi Deb. I'll be late getting home from Boston tonight. Sully's bar is doing a "Shots for Seniors" afternoon.
I hope that work is going okay for you today. I honestly can't remember the high stress of working, but my best wishes are going out to you (buuuurrrrrpppp) , hoping that you can cope with it until quitting time. . . . . Oh ..... can you pick up some tacos on the way home? Thanks ever so much."
Today's walkaround . . .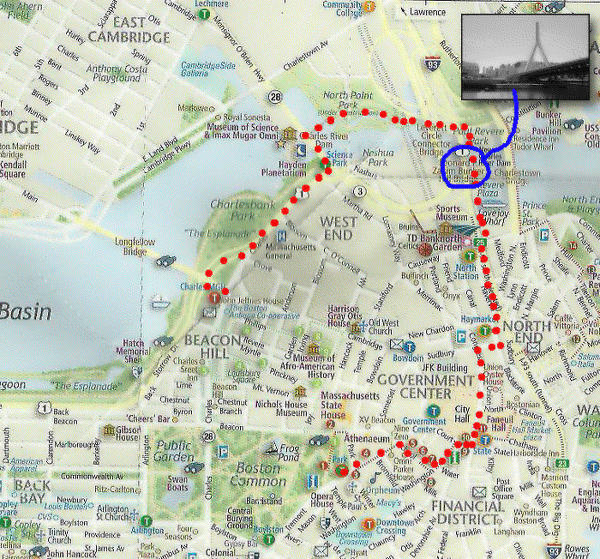 More pictures of the bridge behind me (in my text message above)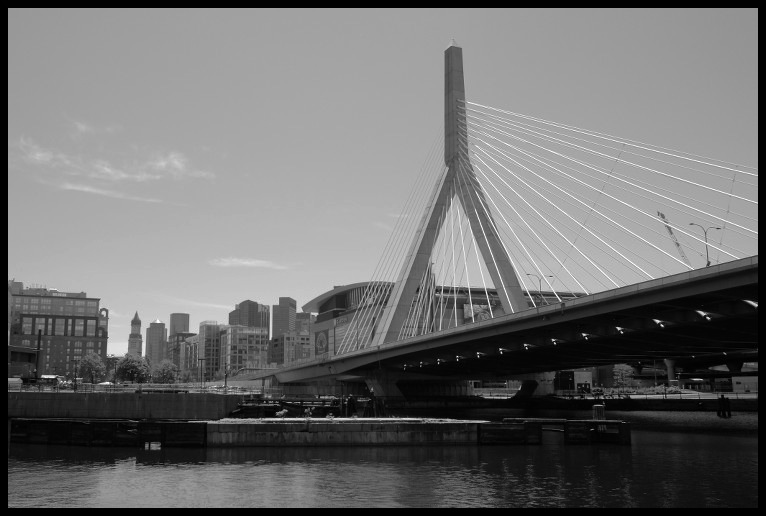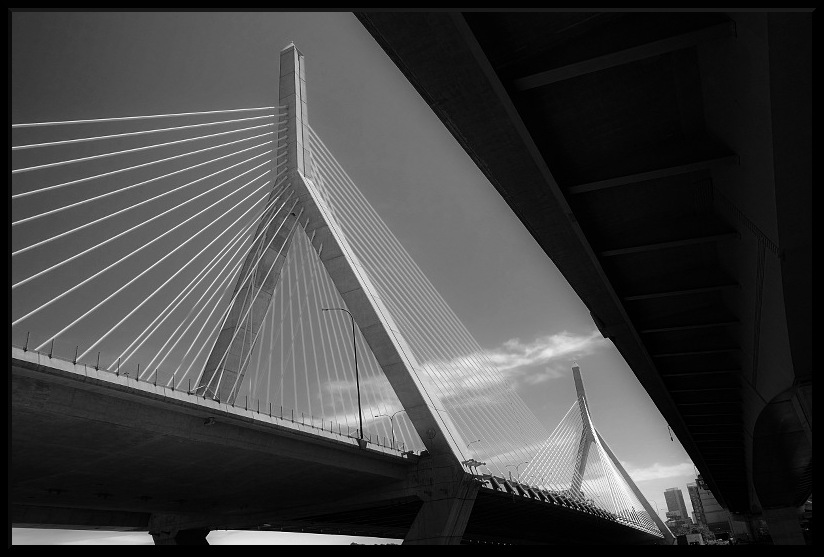 From Wikipedia . . .
The Leonard P. Zakim Bunker Hill Memorial Bridge (or Zakim Bridge) is a cable-stayed bridge across the Charles River in Boston, Massachusetts. It is a replacement for the Charlestown High Bridge, an older truss bridge constructed in the 1950s.
The bridge and connecting tunnel were built as part of the Big Dig, the largest highway construction project in the United States.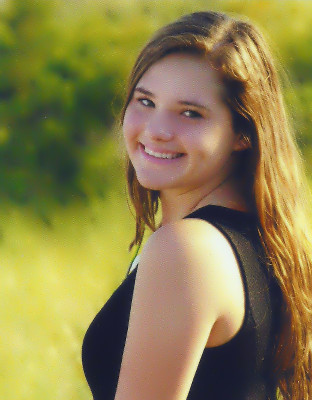 Facts about Erynn:

As seen in the picture, she is quite pretty.

When she dresses as Dr. Who, she puts them all to shame (including Amy Pond).

She started taking college classes when she was, like 12 or something.

I tutored her in math until she figured out that she actually knows more about math than I do !!

She is graduating next month with "Special Honor for Four Years" and starting full time college in the Fall semester (Marine Biology).



We love you Erynn and wish you the best of the years ahead. And please come back and tutor me in math when they ship me off to the nursing home !!


How to behave at a wine tasting event
We went to a wine tasing thing today, and I took some notes on what I saw. Here's what you need to do at these events.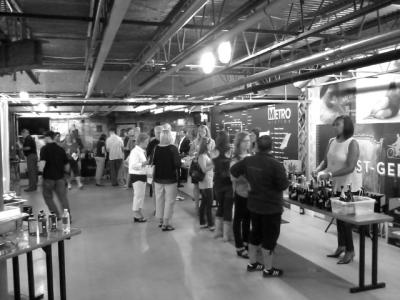 # Wear fashionably wrinkled, expensive, "office casual" shirt and pants.

# Mess your hair up a little before you get out of your car.

# $200 hand sewn bison skin mocassins (no socks) go over big here.

# Look unimpressed by the room. Better yet, look disgusted by the room.

# Nudge your way past the waiting commoners and ask the guy behind the table "What's the best stuff you brought today", and say it LOUD !

# Swirl it in your glass. Scowl. Look through it. Scowl. Mumble the word "viscosity". Scowl.

# Sip it as if it is poison. Wrinkle your nose while you swish it around your mouth.

# Look as if you really really really need to spit this stuff out as soon as possible, but you swallow it and cough a little, covering your mouth as if you might actually puke it back up.

# If you know any Latin at all, now's the time to put it to work. (I heard one guy come out with "Pellentesque aliquet blandit mi. In nisi. Cras id elit" and that pretty much impressed the sh#t out of the crowd.)
We did have fun seriously, and I bought 4 bottles of reds for $15/bottle that I can make at home for $3.50/bottle, but what the heck, right?
Seat backs and tray tables up, please . . . .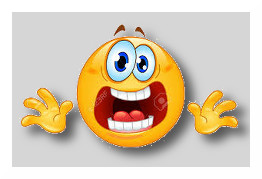 Thanks for the link, Mike. Glad you two made it home !!!
The weather was perfect today, so I lathered up with bug spray and headed out to 2 really small state parkes - Willard Brook (in Ashby) and Dunn Pond (in Gardner). Being that schools are still in session, the parks (both have family swimming ponds) were virtually empty.
I hadn't been to Willard Brook in many years. It is nicer than I remembered it.
Dunn Pond is always pleasant (I was there with Rebekah when she visited in 2012)
The bug spray worked great !!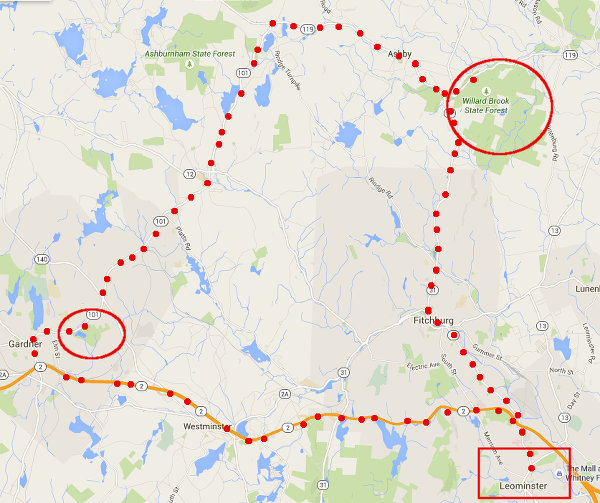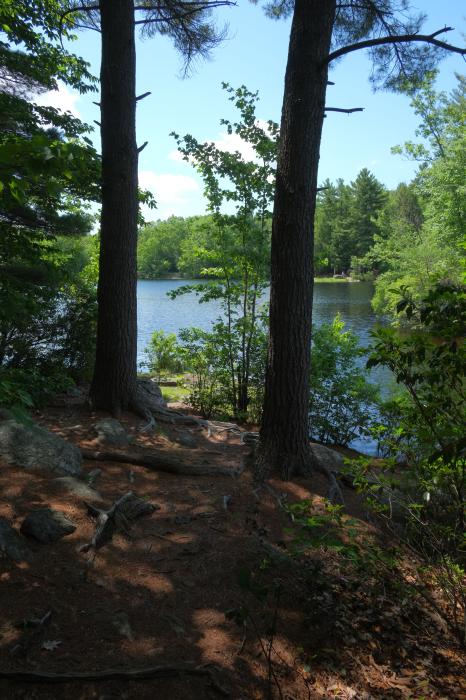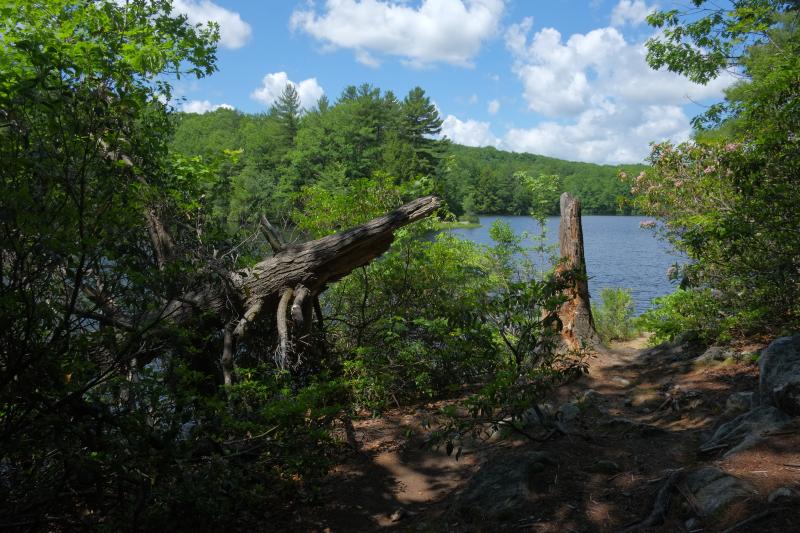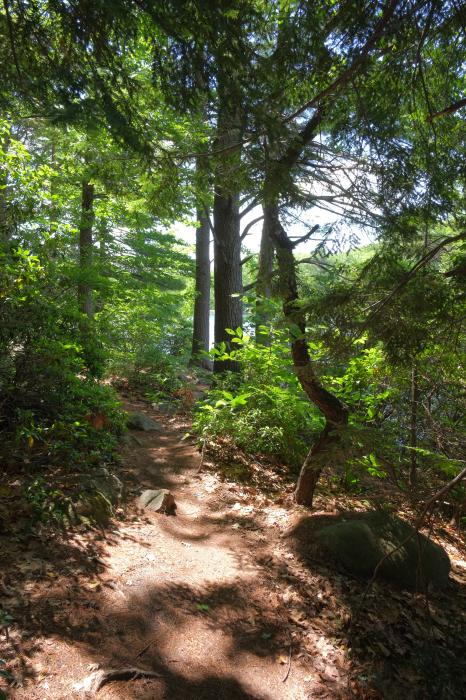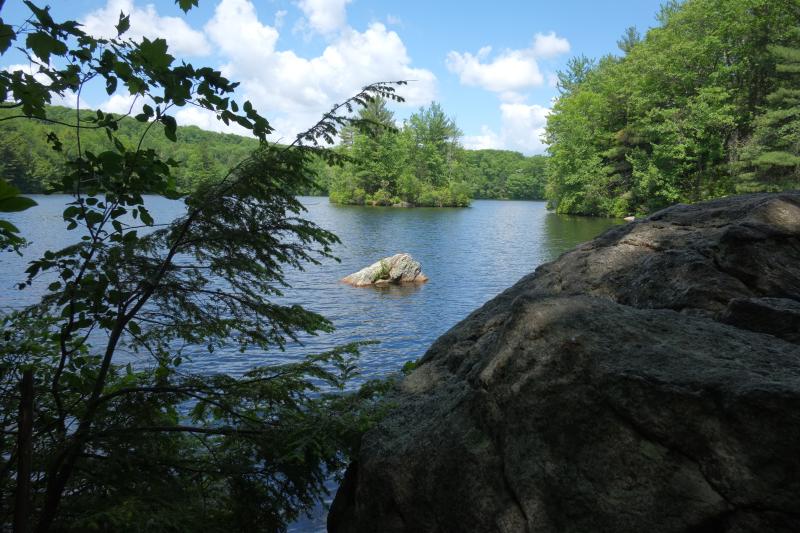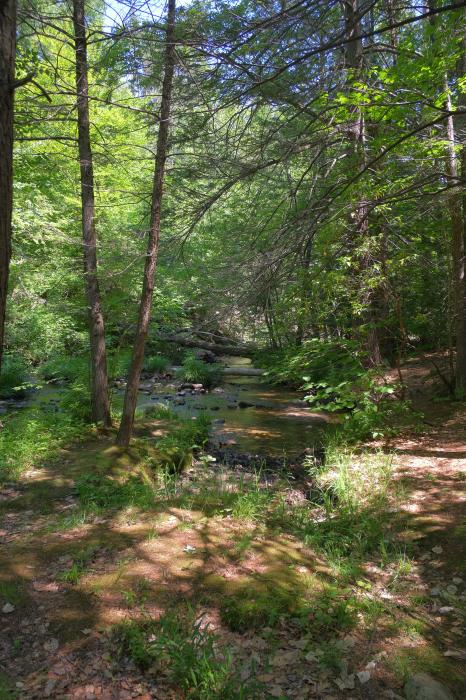 The silver lens here on my digital Fuji XA1 was my very first "real" lens. I bought it with an Exa camera in 1972 for $25. Today I received the adapter you see there to fit the lens on the Fuji. I rushed upstairs and banged a shot of Deb (playing a 10 year long computer game of solitaire !!) I am ecstatic about this warm soft glowy look that the lens creates.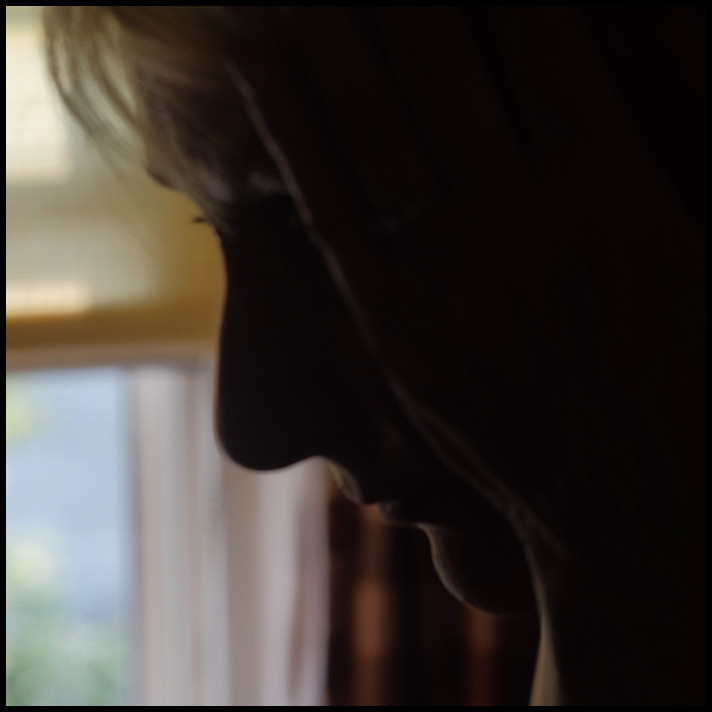 Christopher Lee, the Actor (Dracula, etc) Has Died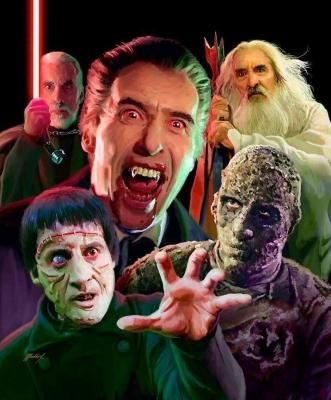 One of my childhood horror heroes has died. His movies (with Peter Cushing) scared the living sh#t out of me when I was a kid. I still remember a few scenes from "The Curse of Frankenstein" (1957) that kept me awake for weeks !!!
Cousin Pete sent the picture on the right. Here is the BBC notice:
ChrisLee
It was good to see him get a roll in The Lord of the Rings (he was Saruman), which came late in his career.
From the New Yorker . . . .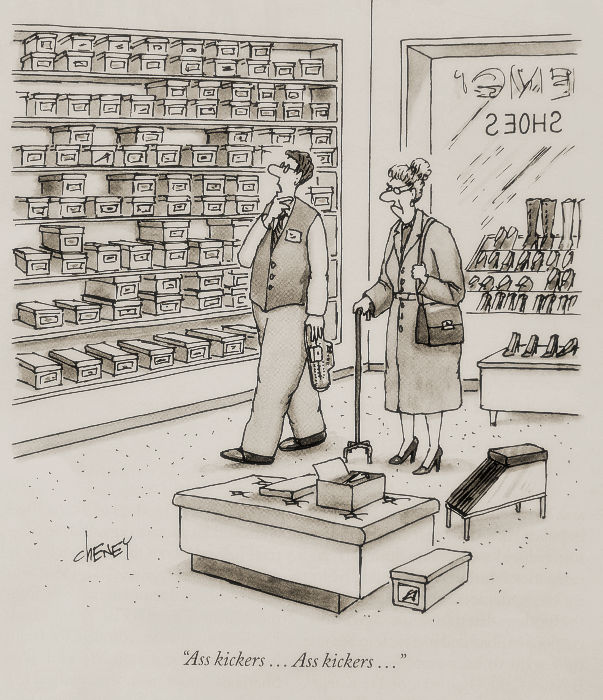 It was bugging me forever: where did I live between being born at GrandPa Fazio's house (Strong Place) and GrandMa Leo's house (18th Street). I was 1-5 years old at that time. I vaguely remember what the outside of the houses looked like in that area and also that there was something way down the street, like a river or highway or factory buildings that made it dangerous. Also, that is was near 3rd Avenue (Brooklyn).
Well . . . it was 14th street, according to Brother Bob's birth certificate.
This is not the discovery of the year, but I'm glad to find the answer.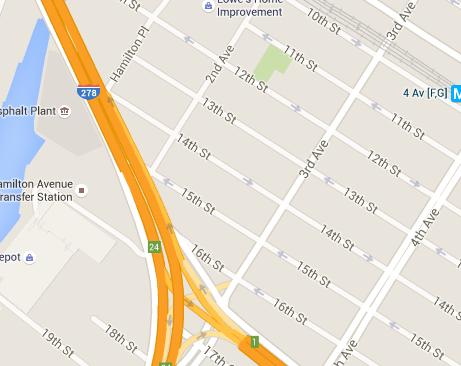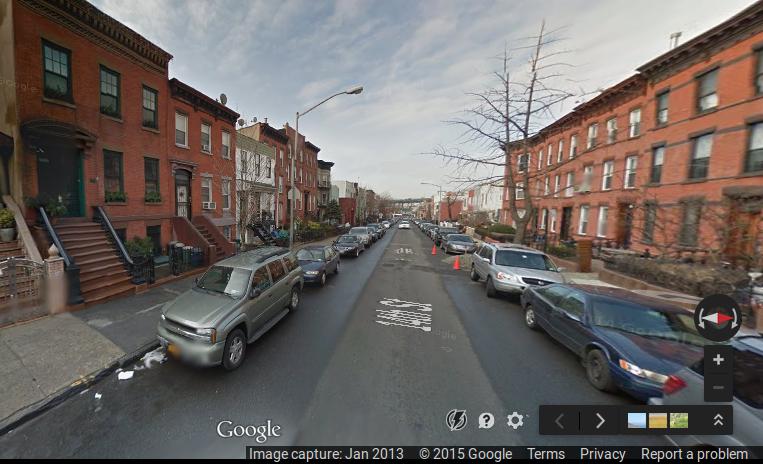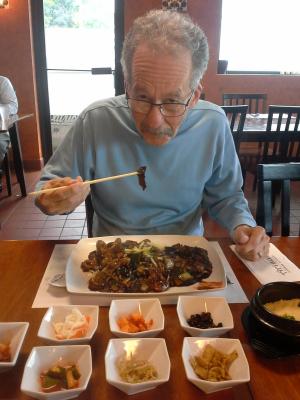 When we caught up with Dave, having dinner with (and paid for by) Mike, at the Arisu Korean Resturant (over on the right there), he had a glowing smirk on his face, like "the cat that ate the canary". We wondered why, so we asked him, "Dave, why do you have that glowing smirk on your face like the cat that ate the canary?"
He snickered, wiped the "special house sauce" from his mouth and told us why. Turns out that not just one but two of his pictures have been accepted by the Fitchburg Art Museum to hang in their summer "Local Artists Show".
The waitress brought us some chilled ginger tea, and I uploaded the story you are reading here (I knew that the world would be extremely eager to read this about Dave).
Father's Day, Hammock Camping, The White Mountains & etc etc
Mike put together a trip up to the White Mountain National Forest (New Hampshire). This was not for whimps. We slept outside at night . . . . no tents . . . in hammocks !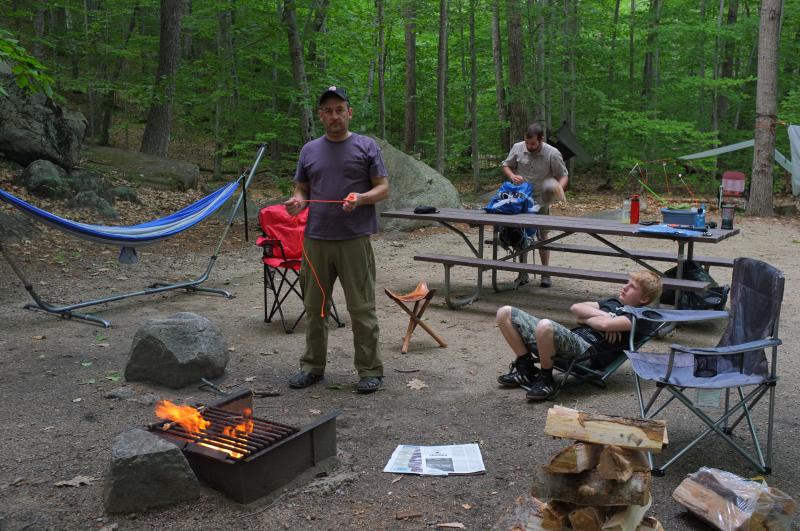 I clipped the stitches . . . . I won't be posting a picture of this . . . use your imagination. Had some dental surgery yesterday and they replaced some teeth with stitches. They had told me the stitches would dissolve in about a week. What they didn't tell me is that they would feel like little pieces of wire sticking into my tongue. So . . .
Put on my reading glasses, borrowed Deb's magnifying mirror, took out my hobby scissors, and . . .
I'm better now.
---
Another old lens on a digital camera . . . . I am now officially into buying ancient, bargain basement lenses (like $50) and attaching them to my digital cameras. It is a real kick, doing things "the old way". Here is a (1940-1950 ?) Steinheil Munchen 40mm/f3.5 on my Fuji XA1. I set the camera on "square, black and white", pointed it at my hats, and there you are. I like the results a lot. Pleasant and cozy looking.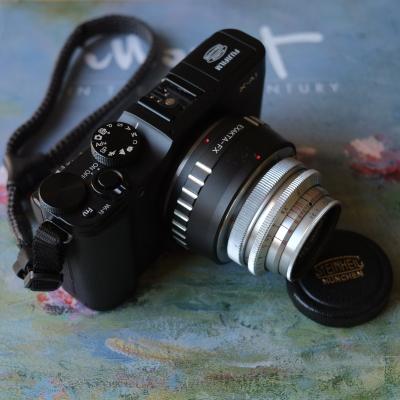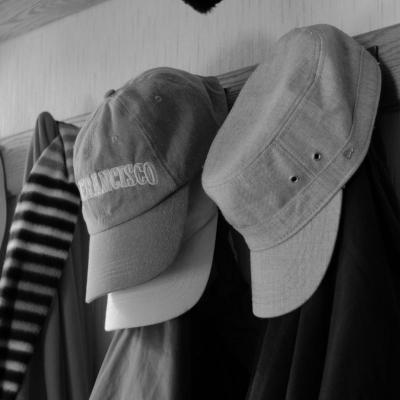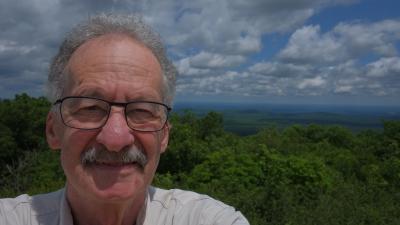 Sharon came by to tidy up the place, so I went out for a few hours. Drove to the top of Mt Wachusett (a 3 minute task) and took my very first in-camera panorama. Everyone else has been doing this for years now, so I figured I should give it a shot. It's down there below this box.
I got hungry and then remembered I need to take a penicillin pill (dental surgery few days back) one hour before eating, so that cut my short and I am home now, watching the clock to eat.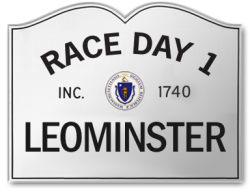 Part of the Longsjo Classic bike race has moved to Leominster (as of last year). This race was once a major event on the circuit, back in the day, but has been slowly dying. The locals are working hard to keep it alive. I checked it out tonight, it was nice. Leominster is making it a family participation event - not just "come, sit, and watch a bike race".

Hangin' In There
Well, this afternoon we went to the opening of the Summer 2015 exhibit at the Fitchburg Art Museum, and they were serious about hanging two of my pictures !! There they are, and they held their own among 3 rooms of really nice stuff.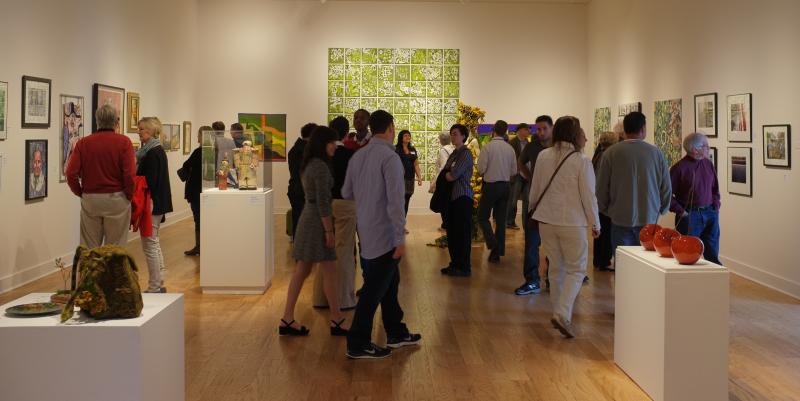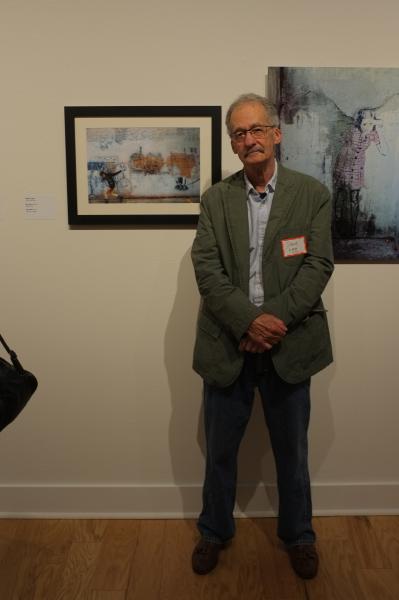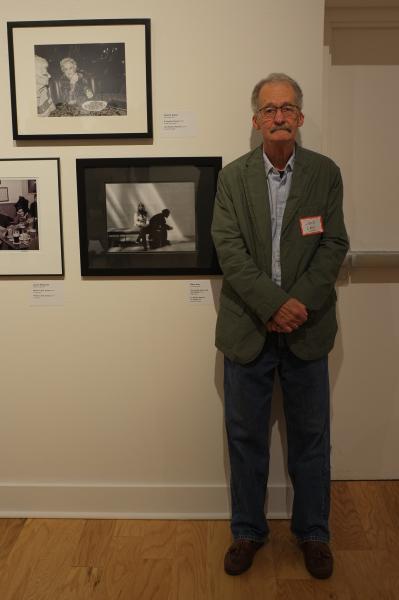 The picture on your left is my grand-daughter, Rebekah, shot in a rainy Dallas parking lot over Christmas visit.
The picture on your right is Nick and Ramona, sitting in the Boston Museum of Fine Arts, this April.
I was very lucky to get these shots, and this basically uses up my luck for the whole year (unless I get lucky again in Italy in October).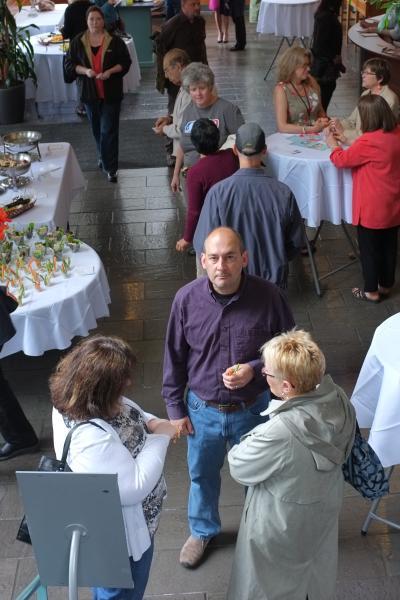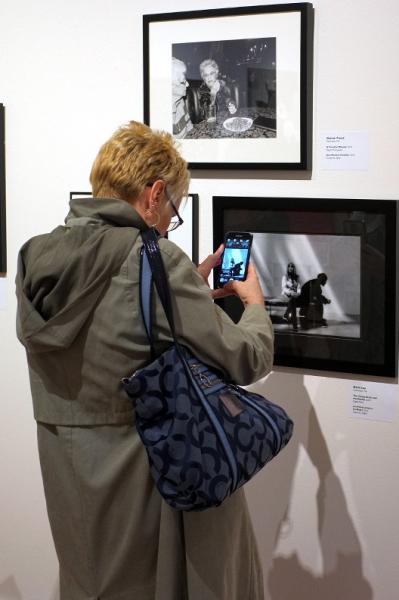 John C. Drops in on Me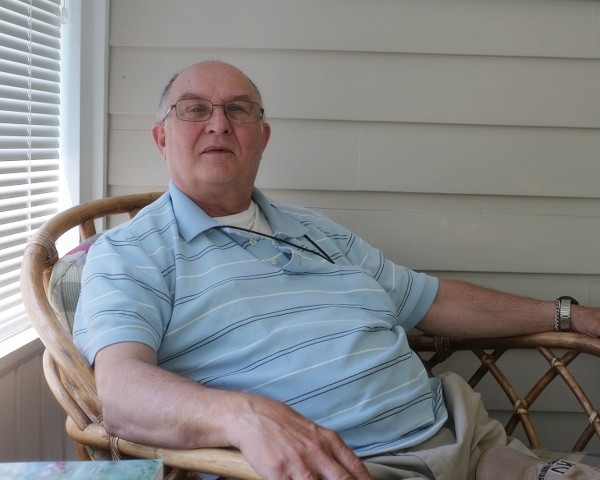 John and I go back more than 30 years; we worked at GE together right to when they closed the plant. I did engineering, he did drafting. Now he spends winters in Florida, and drops in on me once when he gets here and once before he leaves again. He has always been the nicest guy.
He's a country boy. His house up in the woods includes a barn filled with machinery . . . a front loader, a tractor, and other junk that farmers own.
You can tell by that face . . . he has no tolerance for bullsh#t or rudeness or stupidity; he cares a lot about his friends, and says what's on his mind. Take it or leave it.
We swapped medical stories from our past year, and I told him how bad the snow was, and he said places are cheap down where he is, whenever we're ready :) .
We talked about how good things were in the old days and how much they suck now, "What happened to our country?" and "This globalization shit has got to stop" .... "Too late for that, John. Globalization is now unstoppable". We went on and on.
So . . . that's my old buddy John sitting on my porch earlier today.
---