from the CSM . . .
Cartoon #1, Cartoon #2, Cartoon #3
Of Eggs and Galaxies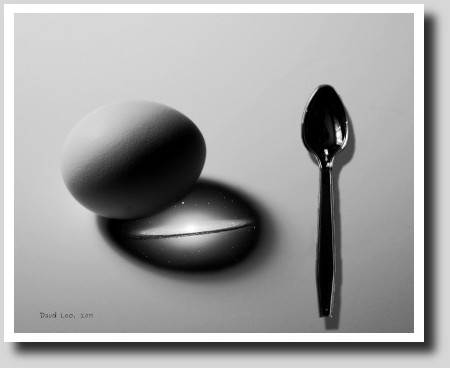 Today was sucky weather. D went to work and the cat drove me crazy with her stupid play rope. I wanted to shoot an art-deco style photo of a hand drill that I painted ever so nicely and spent 2 hours setting up the shot and, when I looked through the viewfinder, I thought . . . "that really sucks". I said that because the image really sucked and I put the drill away and played rope with the cat for a while.
Then I boiled an egg for breakfast (lunch ?) and thought . . . "what if I painted the egg red and took a picture ?" . . . well that stupidity went on while the egg cooled and I decide not to paint it, but I shot it anyway with the light for the drill picture. Then I ate the egg and had my Xth cup of coffee, while the cat sat at my feet with the rope hanging out of her mouth.
I loaded the image and opened The Gimp and the egg picture didn't suck but it was horrifically boring. One thing led to another and (hours later) I finished up what I call "Egg with a Galaxy in it's Shadow & Spoon Nearby." This is destined to be my most timeless image, as I noticed after I saved the file that I misstyped my own name as "Davd". 500 years from now, wars will be waged over possession of this picture . . . mark my words.
Then D came home and asked . . . "What did you do today?". I just didn't have the heart to tell her the truth. "I rebuilt the transmission on the Honda", was all I could come up with on short notice.
Looting / Not-Looting after Japan Earthquake
News articles all over the place are reporting that Japan has seen virtually no looting, following the disasterous (sp?) earthquake this week.
My hat's off to those folks over there.
"I Forgot"
I am recording a log of all the times that I say "I forgot" . The data is showing an exponential rise over the last few years. I had a graph to display here, but . . . um . . . I forgot where I put it.
Dogfish Head Beer
Have no idea where they get these names, but this stuff is really good.
Grand Illusion
This is a classic French "wartime" movie (WW1) from 1937, that I had never seen before. The style is somewhat outdated, but the storyline is just excellent. I actually think that we could not "update " this movie because so much of that WW1 social culture would be lost in the translation. Worth viewing if you can accept the fact that this is a 75 year old interpretation of what happened 100 years ago.
My Netbook
Mike ripped my eeepc down to the studs and rebuilt it and it's jumping like the frog's legs .
Not a Bad Government, but . . . Is "Not Bad" Good Enough ?
The Japan crisis has highlighted some real problems in their national government's ability to handle . . . um . . . a crisis. Much like the hurricane Katrina in the US. See this NYTimes article. Apparently the Japanese government, though not conflicted by political intrique and wrestling, has simply weakened in its leadership. It doesn't take a lot of intelligence or leadership skill and energy to run a ship through good weather. But, in a storm is another story.
The prologue to the (true, documentary) book "The Soul of a New Machine" has this computer engineering manager standing on deck of a sailboat in this terrible storm, with his weekend buddies down below decks. . . . the title of the chapter is "A Good Man in a Storm".