Dave's Journal, May 2017
Early This Morning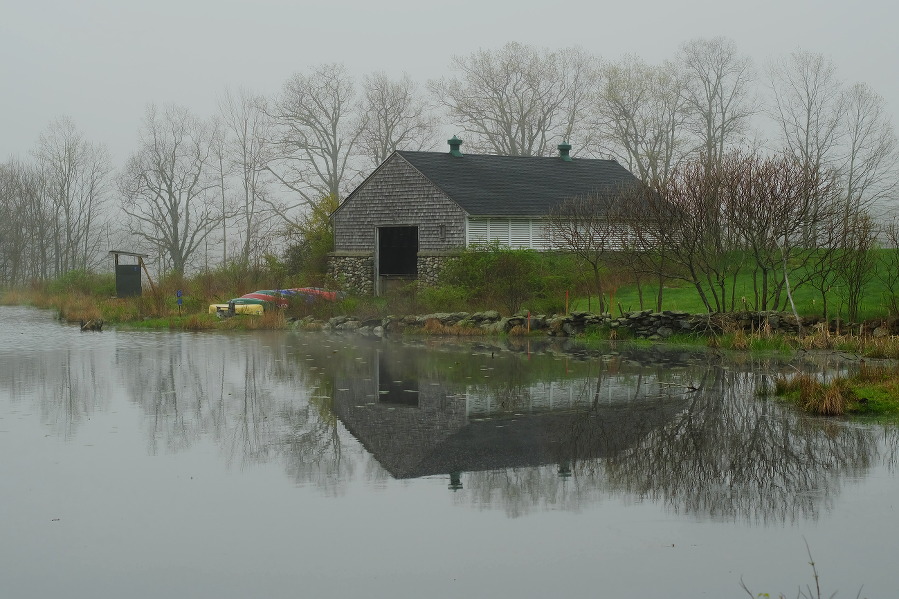 From Mad Magazine (waiting for an oil change)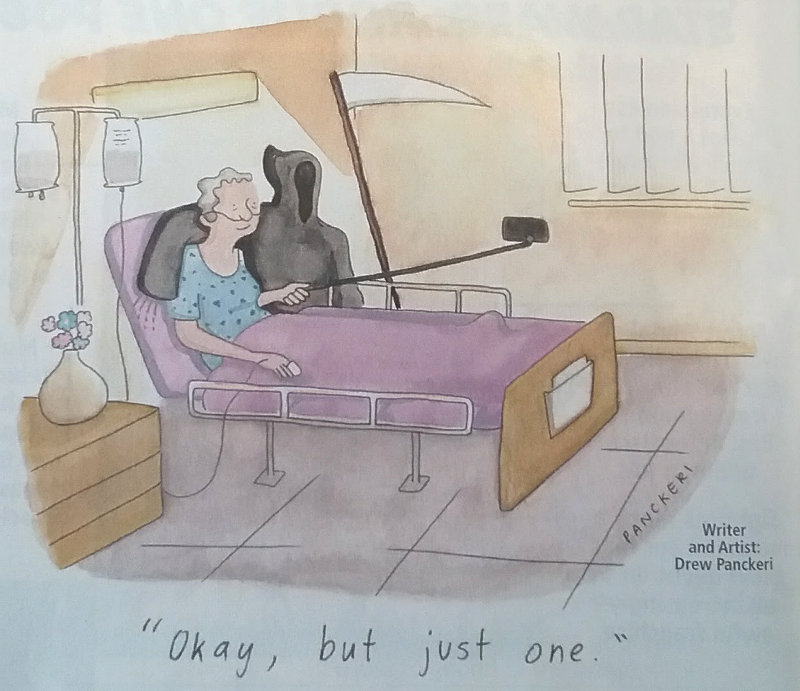 Replacing Our Waterline Today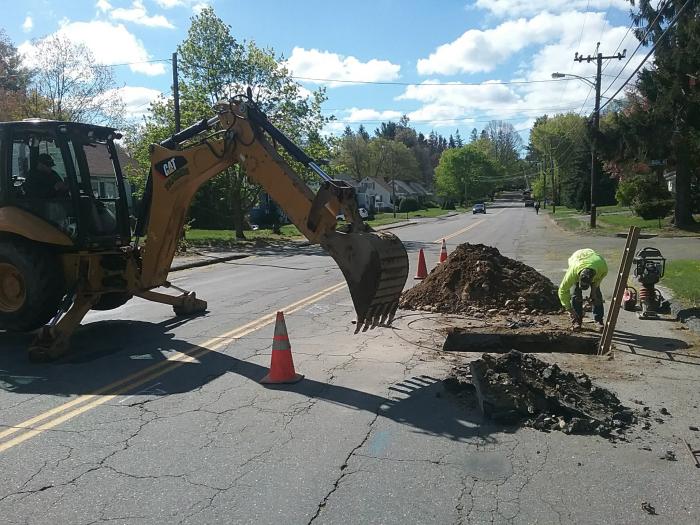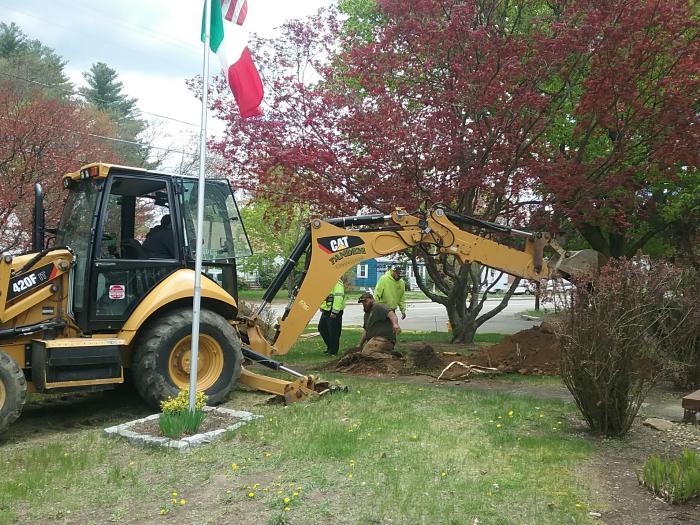 Pulling out a 78foot iron pipe that's been buried for 70 years required enough force to lift the back hoe off its wheels.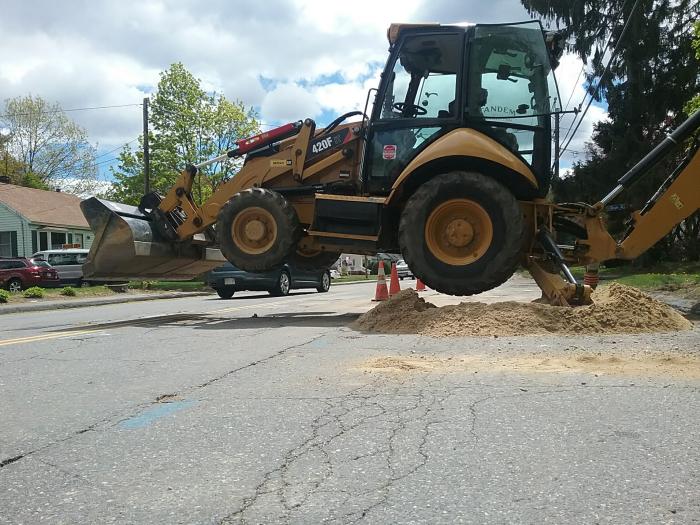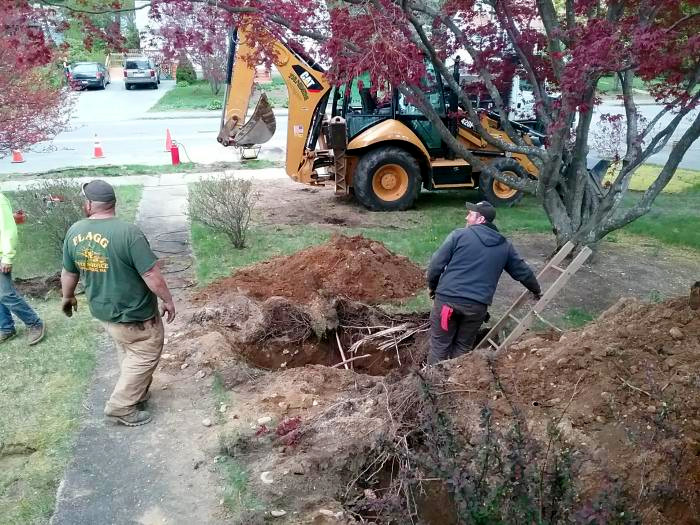 Old 8mm Projector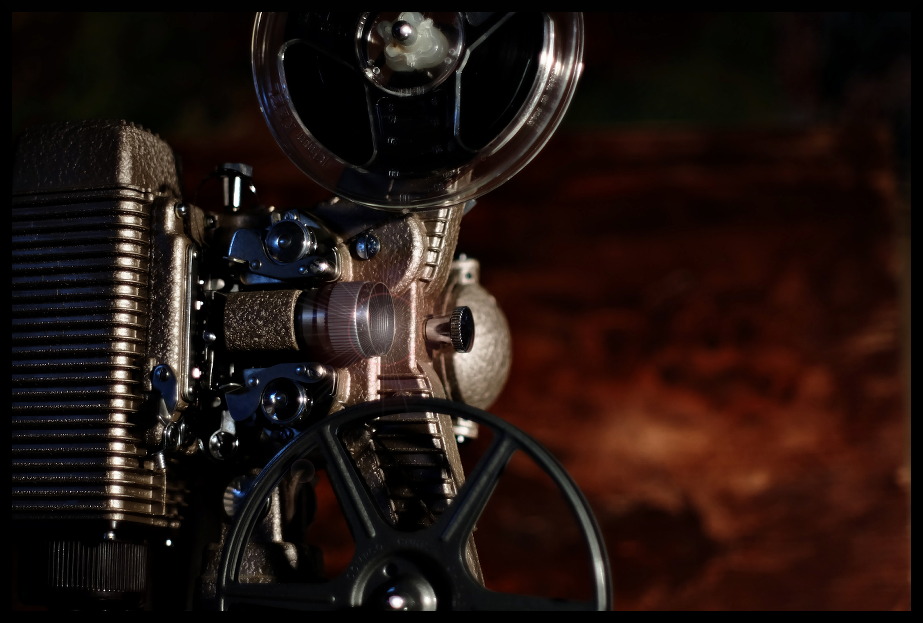 (Why did we ever stop making those magical home film movies?)
I'm getting desperate, running out of ideas for the "one lens / one shot a day" photo thing we are doing on the forum. Fresh out of ideas, I grabbed my childhood rocking horse, stuck on top the bookcase and banged a shot, and I like it, and here it is ....
So, I am off the hook again until tomorrow!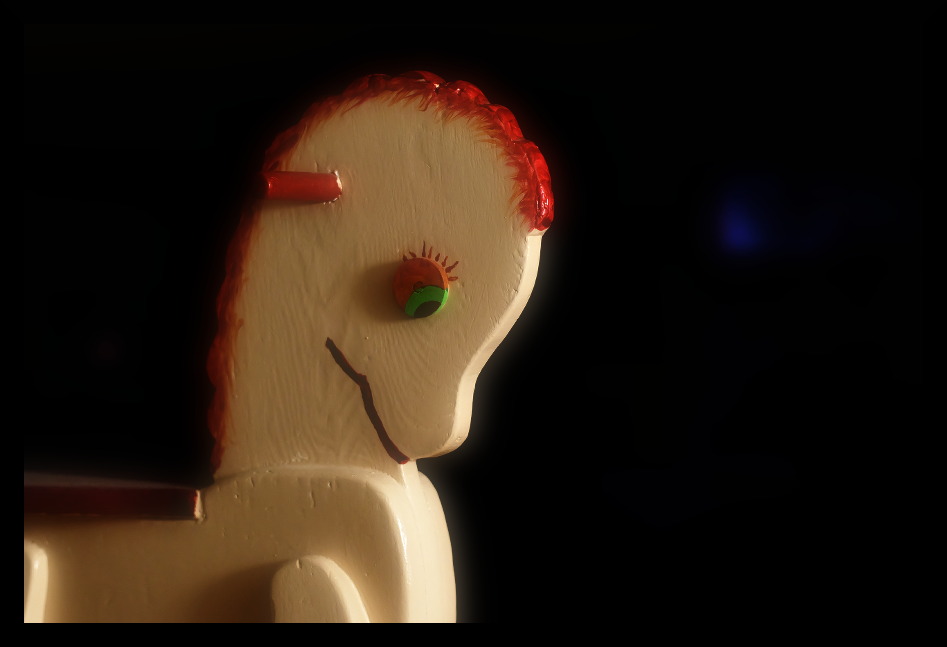 "Hello" from a bench in the woods. Very peaceful, dreamy, only sounds are the zillions of various birds that stay hidden from view (good that I wore my new ears this morning - so many sounds!).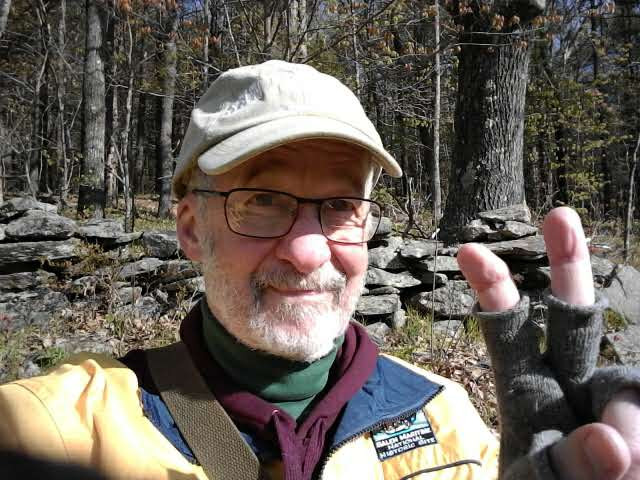 I usually don't walk into the woods unless there are lots of cars in the parking lot (and people on the trail), but this morning I ventured a bit. Left my cell phone GPS running in case I got slashed to death by wild squirrels, at least they could find my remains. But it all worked out well.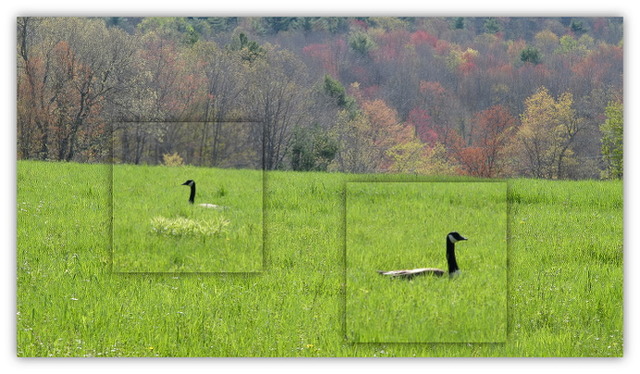 Came home, pulled yard weeds, scattered plant fertilizer, got drizzled on. Stopped. Tomorrow I sift stones out the loam the water pipe guys spread on my lawn. Should be a law that says loam has to be screened before you dump it in someone's yard.
---
Finished screening rocks, raking and seeding the front "lawn".
Made a picture of a guitar to stay in practice.
It's actually a close-up of a small Christmas ornament.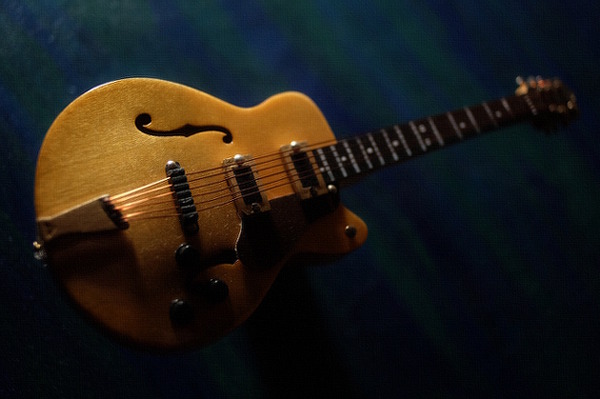 ---
I am reminded of this every Springtime. No matter what you think of yourself, spending a few hours on your hands and knees digging composted cow manure into the soil under bushes and shrubs puts life into a clearer, more honest perspective. When you're taking your clothes off in the breezeway to be hosed down later in the driveway, you can't hold onto too much false pride, you know.
And let's not forget the Tylenol before sleepytime.
But the plants will love you for it.
Here's Deb: cappucino, laptop solitaire and a kitty-cat - true happiness.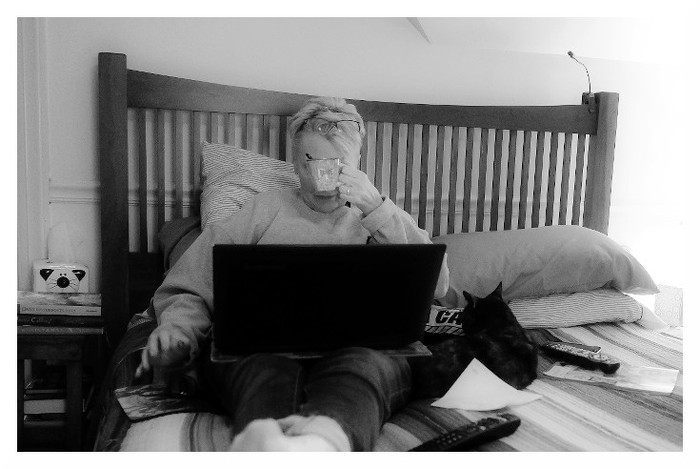 ---
250 Shades of Rose'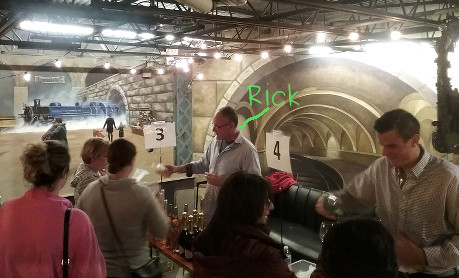 Sadly, Rose' wine is not a favorite of mine, otherwise I would have bought a bunch of bottles yesterday at Rick's wine tasting affair. Actually it was a "Tequila and Rose' " thing, and the place was packed. There were 24 tables, and I guess 250 kinds of Rose' and maybe 50 kinds of Tequila.
People were crowded up to the tables yak-yaking about the subtleties and micro subtleties and sub-mirco subtleties of whatever they were swishing around in their mouths, rolling their eyes and sniffing at.
(I drink the stuff, that's for sure, but don't spend a lot of time analysing what it tastes like or the childhood memories and lost friends it reminds me of.)
Don't get me wrong - it was fun, and I always welcome the opportunity to watch people and think snarky, sarcastic thoughts about them.
I bought a bottle of dark red d'Abruzzo in the store upstairs as we were leaving.
Ogunquit, Maine today. Low tide, not much water splashing over the rocks.

Not much is open up there - Memorial Day is the big opening weekend - but lots of activity getting all the shops and B&B's ready. Most everyone today was in the 60-80 year old age group - the Summer kids get there in a few weeks.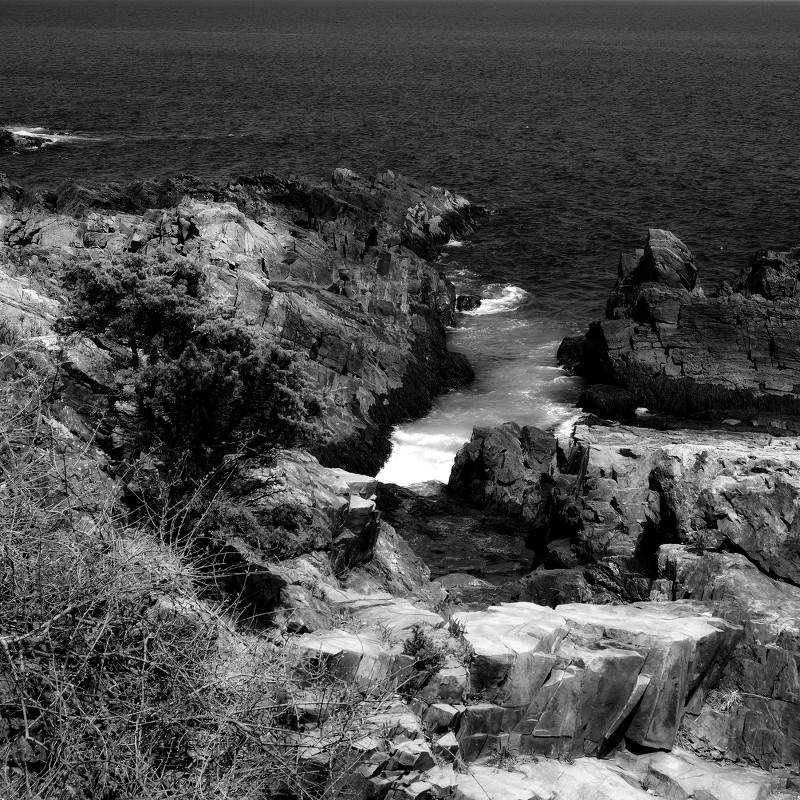 ---
Out in the woods this morning, I thought this was a bird (it was about 20 feet away) until I zoomed in. Looks like probably a seed pod?? Whatever, it looks intriguing.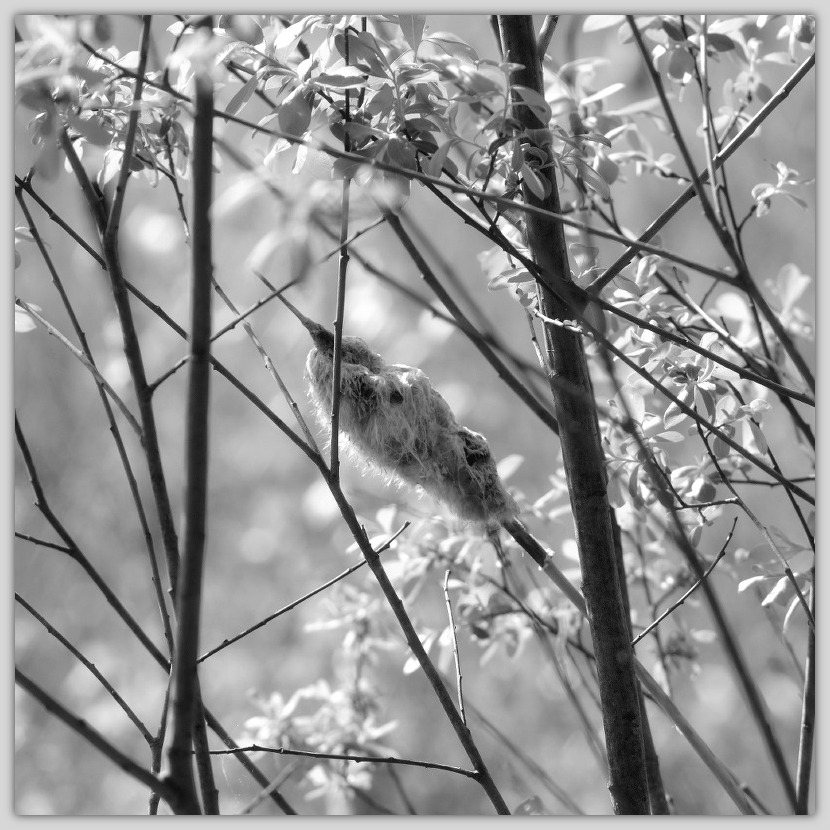 ---



I am giving myself very high marks for keeping political commentary off my journal page this month. It's hard - there is so much juicy material to work with !!

- and I am soooo proud of me.
Spent a wicked nice day in Boston today. Walked along the harbor and the "Greenway", had lunch on the edge of the sea.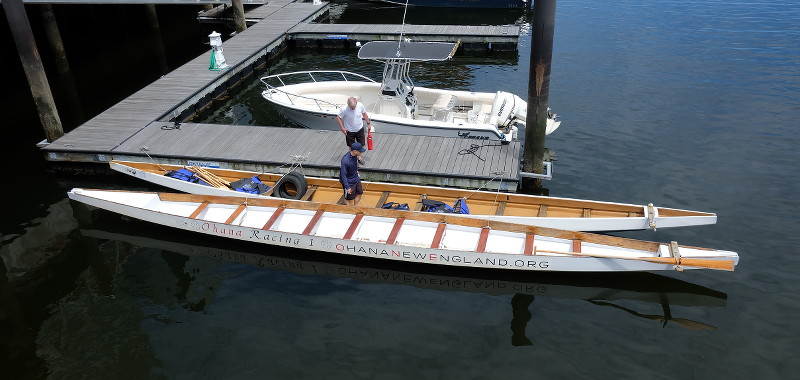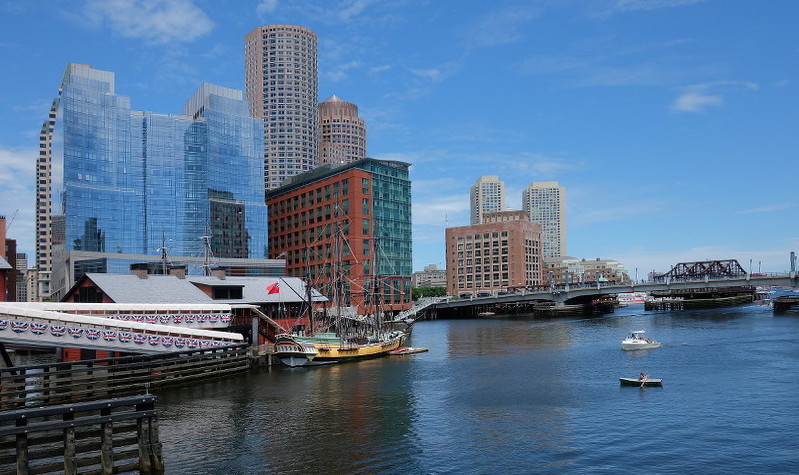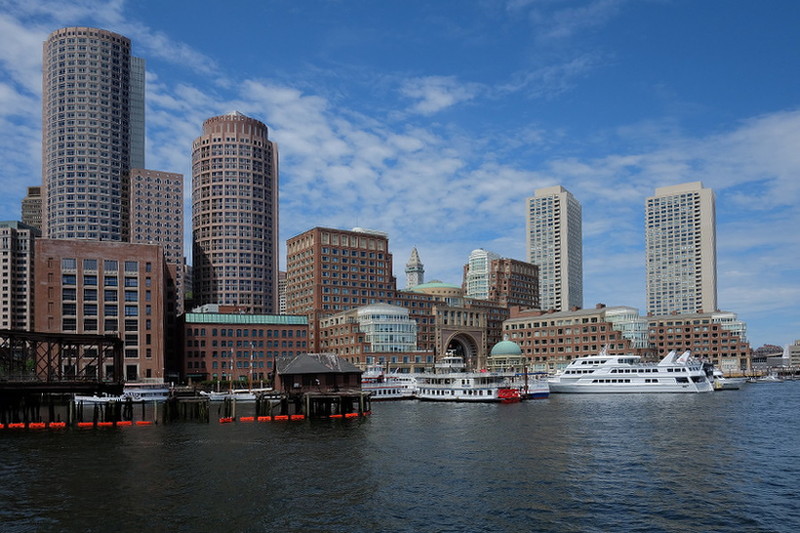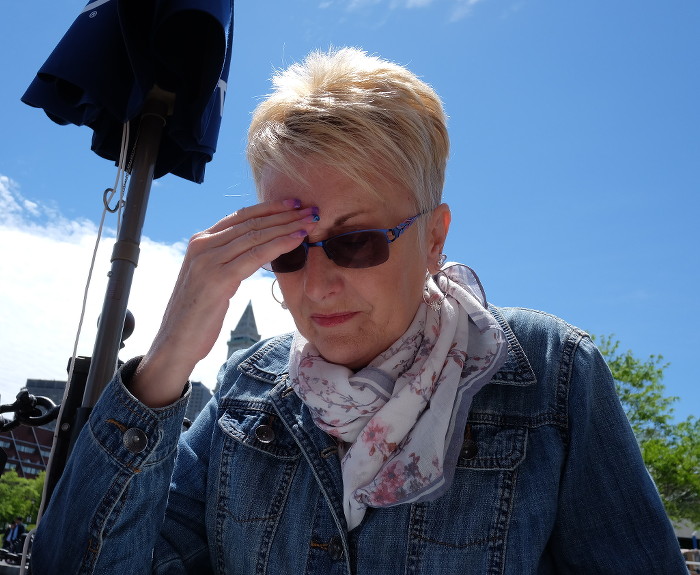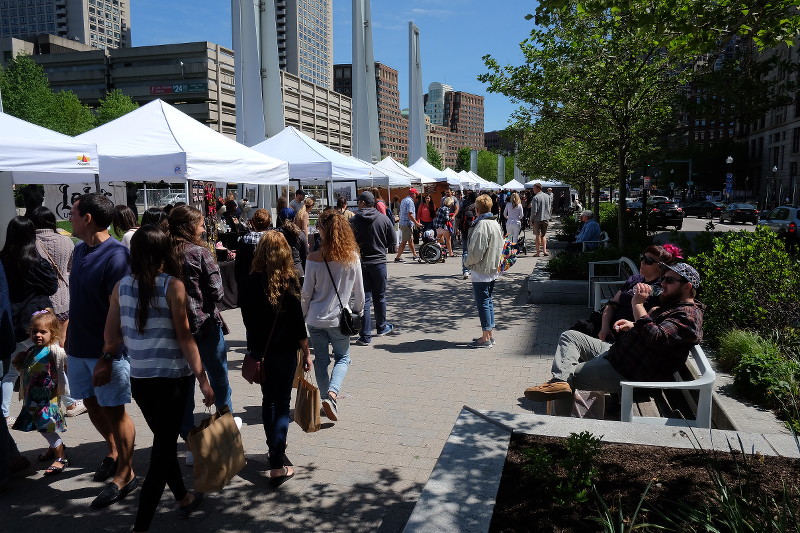 Lot's of work to do in the next few weeks. Waiting for mulch and loam and top soil at this point. But here is the backyard today (May.23).
The alternating days of sun and rain have been great for the plants and trees (and weeds!)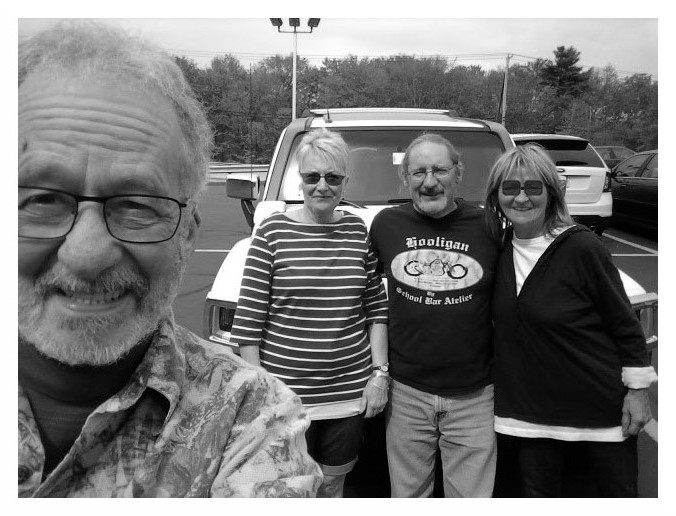 We met Deb's cousin Russ and (wife) Fran for lunch. Nice folks them.
Russ is a long time Harley rider, Fran is a nurse and she watches over Deb's parents almost on a daily basis. They are going to the big event in Sturgis for the 4th time this year.
Well, at some point during lunch, someone said "Trump", and that launched us into a 2 hour friendly-but-heated politiical fuss. I was outnumbered 3 to 1, but I stood my ground. In fact we carried on for a bit longer in the parking lot; I was waiting for the cars with blue lights to come streaming in any minute. But .... all is well .... we ageed not to take anything personally and parted with hugs and promised to go to their yard sale next Sunday.
It was a fun lunch, really.
What should we do with "terrorist watch lists" ???
By my reckonning, the last (at least) 3 "terrorist attackers" and a few of their helpers were on someone's (at least one) "watch list". Which begs the questions ..... what does being on a watch list actually mean? does someone follow you? check your purchases (guns, explosives, barrells of nails)? check your travels to ISIS training? your text messages and emails?
Which begs even more pragmatic questions ..... should people on a terrorist watchlist be treated like people on parole from prison? check in every week with your CIA parole officer? unannounced apartment inspections? no travel outside the US? what else? GPS ankle bracelet?
I'm thinking that keeping a watch list is a waste of resources if you don't actually watch the people on the list. I'm also thinking that when the enemy is a suicidal mass murderer, the legal practice of catching the lawbreaker after the crime is committed becomes painfully absurd, doesn't it?
Shouldn't we act more pre-emptively to fight the wave of suicidal mass murderers? I think we should. In fact I think that if we don't act pre-emptively (get pragmatic about people on terrorist "watch lists"), if we simply collect the body parts after the explosions and identify "who did this", then ultimately the impending threat of terrorism will (very seriously) rule the daily behavior of everyone living (and visiting) cities all over the world.
The threat of suicidal mass murder needs its own special branch of thought - "how should the law treat this". Is it the intent of the US Constitution to protect the rights of someone preparing to execute a mass murder? I think not.
Emma & Nick at his pre-prom Party Yesterday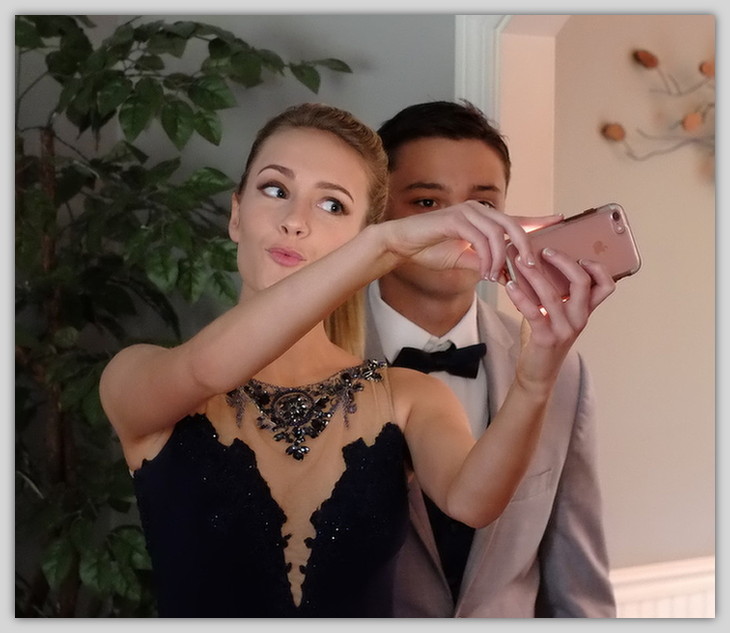 Loretta & Family Have A New Home
Loretta, etc. etc. have moved to a new home in the mountains of Virginia.
Yep, that's what I said .... "mountains of Virginia".
That's the view from her back porch this morning. She reports 5 deer moving around back there as well.
Laughs (well, maybe just smiles)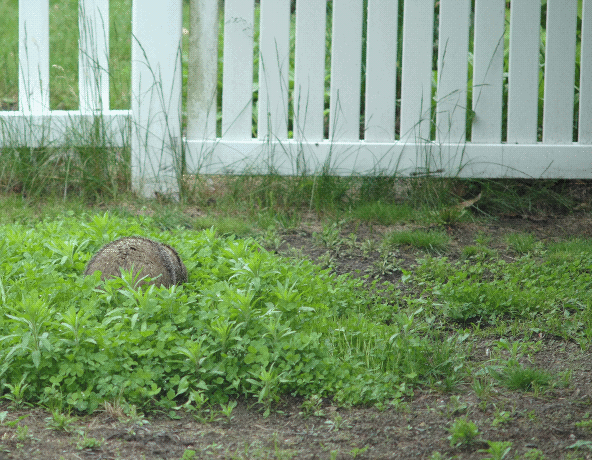 ---