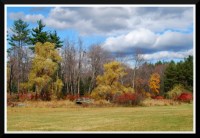 Nov.01.2010 . . . . today I am 23,994 days old. My little heart has beat approximately 2,591,352,000 times thus far.
That's a photo of a small pond bridge we see on or walks. The light changed every minute today . . . it was hard to decide when to push the shutter button. (Click it for the larger version)
Cameras, new and old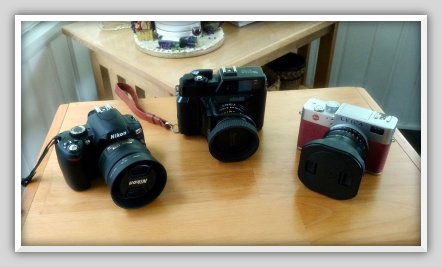 I have great empathy for drug-addicted people, as I am a camera-addicted person, and my latest trade brought a Fuji medium format film camera into my hot, eager hands. True, it cost me the Mamiya C330 plus some of Debbie's hard-earned cash, but sh#tt . . . that's what love is all about, right?
There it is between the Nikon and the Leica, and it is incredibly small, considering . . .
Considering that the Fuji negative (it's a film camera) is 7 times larger than the sensor in the Nikon (which cost me $100 more) and 46 times larger than the one in the Leica (which I can't discuss the cost of in polite company).
Well . . . now, or rather, tomorrow is the day to load some film in the thing and take it for a spin. The weather report says "sunny" so maybe color film . . . or should I trip to the biker bars and shoot Tri-X pushed to ISO 800 ? (and possibly end up in a coma in the parking lot, with a tire wrench embedded in my head? . . . . decisions, decisions.)
Fun Fun Fun
I am not a "fun" person. I don't dance, I actually don't even "party", I only go to the theater as Debbie tells me "you remember that we are going out tonight with ... and .... , right?". I don't keep up with TV shows or "news" reports, or popular magazines. I don't gossip, chit-chat or follow the scores and scandals of the "sports" (there's a laugh) world.
I don't own a motorcycle, or boat, or ATV or snow-mobile. I don't fly-fish, play chess, ski, jet-ski or hunt.
I am not a "fun" person because all of that stuff bores the sh#t out of me.
I am, however, a happy person, because I do "non-fun" stuff that I personally enjoy enormously, and would become seriously depressed if I could not putter with reading, gardening (and reading about it), photography (and learning about it), writing, hiking (actually, walking), kayaking, woodworking, interneting (I made that word up), thinking cynical thoughts about politicians, making mental fun of the stupid things that (other) people do.
So . . . there's a difference between just "doing fun stuff" and actually being happy . . . I think .
Do I ever get bored? . . . of course I do, same as everyone else who can't decide what they want to do at that moment. But I always get over it and get busy with something.
NaNoWriMo
That's National Novel Writing Month . . . . .
National Novel Writing Month is a fun, seat-of-your-pants approach to novel writing. Participants begin writing November 1. The goal is to write a 175-page (50,000-word) novel by midnight, November 30. In 2009, we had over 165,000 participants. More than 30,000 of them crossed the 50K finish line by the midnight deadline, entering into the annals of NaNoWriMo superstardom forever. They started the month as auto mechanics, out-of-work actors, and middle school English teachers. They walked away novelists.
hmmmm . . . . .

. . . . I'd be starting 4 days late, and so much yard work in November, plus Thanksgiving . . . easy decision . . . I'll sign up today.
good grief, i actually just did it and they already sent me a starter kit . . . I am committed to write a 50,000 novel by midnight, Nov 30th . . . . I will write a plain text document . . . . I am going to wing it without a plan, plot, script or an outline and just start typing and never edit anything . . .
hours later . . . am up to 588 words . . . will never make the Nov 30 deadline !
more hours later (it's raining and my plan to rake leaves was aborted, so i am writing) . . . i need to write at least 2000 words every day this month to meet this target . . .that's a trainload of words ! . . . so i am writing and using an awkscript to count the words as i go along . . . today (day #1) i made it to word #2032 ! . . . so i am 32 words ahead of schedule

an excerpt . . . The young Gothic girl was on the bridge, her back to the rail, her arms stretched out behind her holding the rail , her face up to rain and she was talking to no one. No. She was praying. Alone on a bridge, on a rainy night. Not a fine place you might think for a young girl to be. Then she leaned backward and flipped herself over the rail like a gymnast and down into the river she went, and she hit the surface flat, died on impact and floated downstream for two days.
---
Absence of Malice
i'm not quite sure how many other people like this movie (Sally Field, Paul Newman, Wilfred Brimley), but i like it enormously and it's on the TV over there as i type my 50,000 words. It's a decent plot made excellent by some seriously professional actors. The magic moment is Wilfred Brimley's scene as the down-to-earth federal prosecutor from "down on the farm".
Brimley: "At the end o' this meeting, there's two things that's gonna be true that ain't true right now. #1 is that the federal government is gonna know what in the hell happened here, and #2 is . . . . I'm gonna have somebody's ass in my briefcase."