Scanner Art
inspired by some stuff i saw on the internet, i grabbed a batch of garden leaves, scanned them and sweetened it in the GIMP . . . . and got so excited about it, I started a web page on the topic . . . Dave's Leaf Scans
Out on the Town & Packin' Heat
In general (there are exceptions), I think that every adult US citizen should own and know how to operate a gun and practice using it regularly. This is not a popular opinion around here, but it's my standpoint, and I think it's a good idea.
I also think that it is a mindlessly stupid idea to allow people to legally carry loaded weapons around town and into restaurants and bars. That is not a popular opinion in (at least) 22 states that allow people to do that, but again it's my standpoint.
I am not going to argue my case, as (like abortion, religion, politics, sports, computer operating systems and cameras) it's pointless to argue about it.
Customer: Waiter, please remind that man that smoking in a public restaurant is illegal, and we are eating dinner in a cloud of his smoke here.
Waiter: Yes, sir, it is. But he's carrying a loaded 9mm and he's drunk as a skunk, so let's let him smoke, okay?
A last dig (from today's NY Times . . . ) "Rick Perry of Texas, a Republican, called for guns to be made legal on campuses after a shooting last week at the University of Texas, Austin, arguing that armed bystanders might have stopped the gunman. "
. . . . . (and yet we laughed at Archie Bunker back in the 1970's who wanted to arm all airplane passengers as they boarded their planes. )
The Last Roll of Kodachrome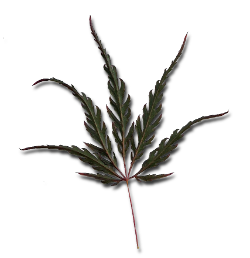 By most photographers accounting (mine as well), Kodak Kodachrome slide film was the most perfect color-reproducing film ever . . . nothing came close. But the very last roll of Kodachrome has been shot (by legendary photographer Steve McCurry) and the world is waiting to see what it recorded. (Watch for something ? from National Geographic to find out.)
I won't pretend that my photo-creating skills are up at the kodachrome level, but I am going to miss seeing the work of the masters as recorded on the master of films.
Mike (aka, son of Dave) pretty much nailed it during a lunch (breakfast ?) we had.
Me (aka, dad of Mike): Photography degraded from large film to medium film to small film (35mm) and finally down to digital sensors (worse than 35mm) viewed on pathetic monitors at 96 ppi (compared to paper prints at least 300 dpi).
Mike: What drove that downward change was how most people look at pictures these days . . . on a shabby 96ppi monitor, and that's just fine for most everyone.
Yet another step downward for "progress".
---
Lexi, the cat
here is the new addition to the household . . . Lexi (short for "perplexing") . .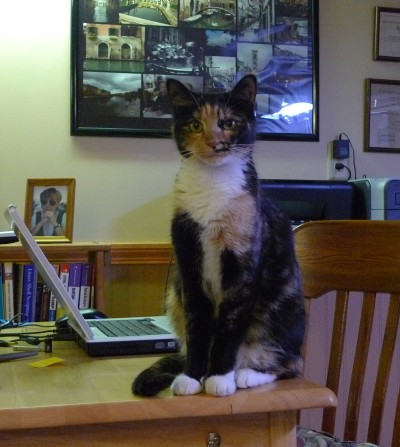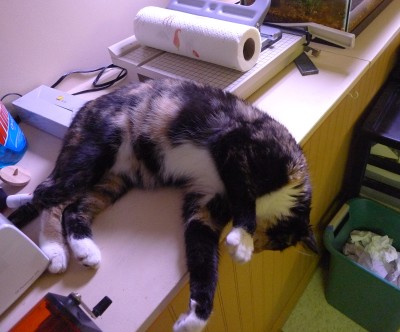 she is an extremely sweet cat and has already been an enormous help with typing on the laptop.
---
Health Care Spending vs Life Expectancy
Mike sent me a link to some data on what countries spend on health care. This is a list of the total medical expenses per person, per year versus their average life expectancies, for a bunch of industrialized countries. I am not yet ready to pack up and leave the US based on this data, but I sure will excercise my right to say "someone should fix this . . . and it sure a sh#t won't be anyone from the health care industry".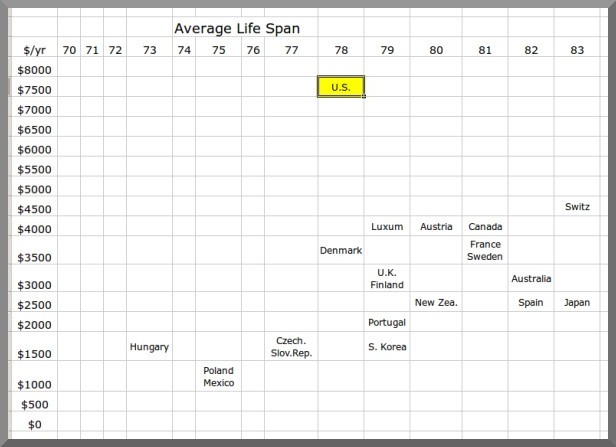 It does make you step back and look at the data. Except for the U.S., there does seem to be a positive relation between spending $$$ on health care and life span for the rest of the world. I am guessing that the singular US data point is caused by profit-taking and over-prescribed tests and medicines.
If we were on the same track as with the rest of the world, for our current life span of 78, we should be spending only $2500 - $3000 per year (instead of the $7300 we are spending). . . . or live to be a healthy 95 (which is what the global trend extrapolates to for our $7300) !
---
Renamed Cat
Zach weighed 14 pounds and ate more than i did . . . don't know what this new kitty weighs but she eats more than Zach on his best day, so she is now called (borrowing from Native American societies)
"Eats-more-than-Zach"
Arizona : Illegal Immigrants & Refugees
from the NYTimes . . .
Arizona accepts more refugees per capita than almost any other state and treats them well.
In Arizona, illegal immigrants get the boot. But refugees get the welcome mat. Even as officials rage at what they have called the "invasion" of illegal immigrants, mostly Mexicans, Arizona has welcomed thousands of legal immigrants from such grief-torn lands as Somalia, Myanmar and Iraq, and is known for treating them unusually well.
Indeed, the scorched expanse of the Phoenix valley can seem like a giant resettlement lab. Bosnians trim the watered lawns of the Arizona Biltmore, and Karenni speakers have their own prenatal class at St. Joseph's hospital. A Sudanese goat farmer is thriving in a desert slaughterhouse built with a micro-enterprise loan. (He is glad to demonstrate his skill in turning goats to goat meat.)
Hai Doo, a laundry worker from Myanmar, got grants to buy his first home. Yasoda Bhattarai, a new mother from Bhutan, credits 10 weeks of free hospital care for saving her daughter, who was born with tuberculosis. "Whenever people ask me about Phoenix, I tell them it is the best place," she said.
Only three states accepted more refugees on a per capita basis over the past six years. Arizona took nearly twice as many refugees per capita as its liberal neighbor, California, and more than twice as many per capita as New York, New Jersey and Connecticut.
---
Wedding on Cape Cod (Literally !)