Yet Another Camera
This time it's a factory refurbished Nikon D60 ($320 . . . who could turn it down ? ). Shown here with a Nikon 24mm/f2.8 lens I had left over from the olden days . . . they work beautifully together. Also have the legendary 105mm/f2.5 and the "pancake" 45mm/f2.8 ready to play with this body.
Sold an old (1950) Leica 111f and a Cosina-Voigtlander Bessa-T (with lens) to smooth out the flow of cash.
Roger's Trains
Roger C. is an uncle in D's family, and he and D were godparents to someone else in D's family who got married today, and Roger is a retired mechanical engineer (Pratt & Whitney) who has the most incredible train set I have ever seen in his basement.
But let me sidestep first to say that his wife, Johann, does (I think it's called?) needlepoint that is just incredible . . . I thought they were classic paintings . . . and she gave one to D for some reason I didn't understand, but it is too beautiful. (It is a gift for D's being the Maid of Honor at Lisa's wedding.)
Back to trains . . . I shot photos of R's train set and threw together a web page where I will post them, as I clean them up. The web page is RogersTrains.
A Wedding, A Slip of the Lip, and Some Photos
D's godchild (who is no longer a child) got married today and we attended, and they had a pro photographer at the church. The photographer is setting up her formal shots at the altar after the wedding. This is a very meticulous process as you have to see every minor detail before you punch the shutter button. But the bride's brother is there with his camera and is prowling about popping his shots in and around the pro as she is working. Having shot a few weddings, I know how incredibly aggravating and even insulting this is, so I lean over and whisper quietly in D's ear . . . "If I were that photographer, I'd smash Kevin's head in with my camera".
At that, every head in the church spins about to look at me, D shrinks under the seat, Kevin and Kevin's mom flash daggers from there eyes . . . I smile, I nod . . . no one smiles back . . . no one nods back .
Well . . . there you have it . . . I am on the sh#t lists of about 15 people . . . so be it.
After the party, I popped some of my own (the pro had gone home), with the help of my able assistant Karen . . . Family Shots from Today
and . . . a practice shot the night before . . .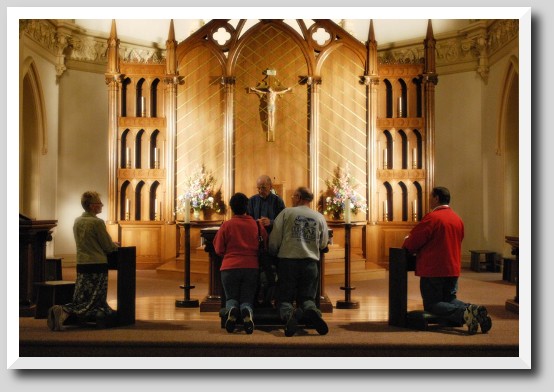 Trains . . . Such a Sad Episode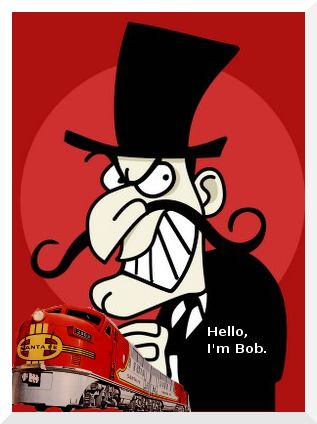 A lot of people have wondered why I don't have a fabulous trains set like Roger C has in his basement. Well . . . it's not an easy story to tell, but since it's on the table, I need to tell the tale.
As a child, I had a train set (Lionel, of course) that my parents had given me at Christmas, because my school grades were (as always) stellar, and they truly felt that I deserved a special gift that reflected the charm, the wit, the glowing persona that was me . . . thus, "Santa" gave me the train set.
If I had that model train set when I grew up, we can only imagine the wonderous creation it would have evolved to in my basement today.
Where, you may well ask, is that most beloved train set now ? . . . . A painful question to be sure . . .

sorry . . . . sorry . . . .
I just can't go on with this story right now . . .
Jules Aarons, Physicist & Photographer
Mike, Chris and I went to an exhibition tonight of photographs by Jules Aarons (1921 - 2008), who was a physicist from the Bronx, taught at Boston University and, as a hobbyist, became a pretty famous photographer. The exhibit tonight covered his 1947 - 1976 photos of Boston's Italian District (the "North End"), and it was hard not to believe that the photos were from Brooklyn neighborhoods that I grew up in.
He used a Rolleiflex TLR that produced large 2.5" X 2.5" negatives that could produce very large prints. There were probably 30 of his photographs there tonight, and it was most enjoyable.
And . . . our cars did not get towed, as threatened by the signs.
Sep.16.2010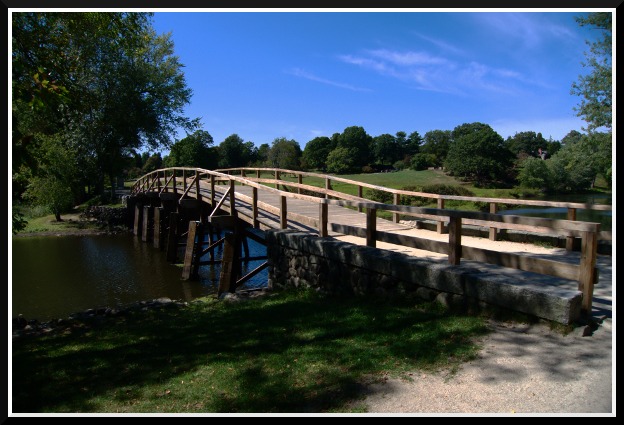 Took a short trip to Concord, MA to visit their "museum", which is really their Historical Society's collection of 1600 - 1900 stuff about Concord (what was I expecting ? ). They don't allow photos inside, for some silly reason. Then trecked a mile to the very historic bridge of the Battle of Lexington and the "Shot Heard 'Round the World". The bridge has been rebuilt a bunch of times over the years and every time, they change the design, so the best I can say is "this is where the bridge used to be"

.
Two minutes after I shot this, the bridge was covered with people from a bus tour !
Sister Wendy ? . . . Sister Wendy ?
I have been reading books on art (mostly paintings) to help my photography and make myself a better-educated critic of what I am looking at. Been through probably 10 books now by every Tom, Dick and Mary who has something to say on the topic. I've learned a lot and some of what I learned is that art critics are mostly full of themselves and snobbish about it. There are some exceptions, though.
I see "Sister Wendy's Book of the Impressionists" on the library shelf, and thought "you're kidding me, right?", and skipped right over it. Next visit to the library, I had the moxie to open it and read a few of her commentaries on some paintings, and I was floored. To the point that I started wondering "Why did this smart person ever become a nun ? " (no offense meant to anyone reading this). . . Took it home, read it twice (it's short, to the point, devoid of bullsh#t). Her interpretations of the classic impressionists paintings are so instructive and almost exhilirating, and sometimes they are really passionate (are they sure this lady is a nun? ).
She has some other books out there, and I'll probably check out the Alibris used book website for them.
Being Sane in Insane Places
Don't ask me why, but as I was just reading a magazine about organic gardening while waiting for the microwave buzzer to go off, I thought of this.
Back in the late 1960's and early 1970's I was a member of the American Association for the Advancement of Science (AAAS). This allowed me to carry an AAAS membership card that I could drop on the table and win whatever bullsh#t science argument I was involved in at the moment. (The power was enthralling, at the very least.)
Over the decades, the one article that I have remembered from the monthly magazine was one called "On Being Sane in Insane Places". The short version is that some PhD candidates got themselves admitted as patients to several "insane asylums". No one at the asylums knew what was happening here. The college people (all as sane as anyone else in graduate school) took notes.
What they found was that, in every instance, everything they did was interpreted by the asylum doctors and para-doctors as being behaviors of insane people.
For example, one group had to wait on line an hour to get into the cafeteria for lunch, and they were "hushed" when they talked to each other. Of course, they got agitated and fidgety and complained, and they were either pulled out of line and reprimanded or returned to their rooms or in one case, sedated. Their records were written up to say they exhibited various delusional and psychopathic behaviours. Keep in mind, these were "normal"people waiting on line one hour to get a lunch tray. The asylum doctors were looking for "insane" behaviour among the patients, and of course they found it.
Further stories and details in the article went on and on, and I learned from this study that you find what you are looking for. If you look for ___________ , you will find it in whatever you observe (whether it is there or not ! ).
Sunday, Sep.19.2010
Deb and I trekked over to the Fruitlands Museum for our first time. It was nice, but the brunch was painfully expensive, so we'll skip that (if there ever is a) next time. It's a scenic place with history back to 1700's and the Shaker people, but what brought me there was their collection of paintings by "the Hudson River School" painters from back in the early 1800's,in upstate New York. They were one of the first painters to actually paint outside ! , and they had a major influence on all painters after that (I know stuff like this now that I am a public library rat).
I have learned that today we take pictures for granted because we have spent our lives taking photographs with cameras, and the camera does a fabulous job recording what is in front of it, including all the subtle activities of light. Back in the olden olden days, the artists had to very seriously study every scene that they looked at to perceive how the light played off and reflected through the various things out there in front of them. By comparison to those painters, we photographers are barbarians.
At the very last building that we visited, the nice lady says "we don't allow photographs", and I said "what?" and she went over to a small table and cleared away her books and dredged up a piece of paper that was tiled "Notes for Visitors" and right there at rule #10 it said, "no photographs, please" and I swore a blood oath to delete all my pictures and just then D noticed the lady was reading the same book she was and they bonded and chatted and everyone forgot about my illegal photos (some of which may be seen below, and I consider them repayment for being ripped off $40 for French toast, bacon, a danish and coffee) . . . .
that sounds fair and credible, huh?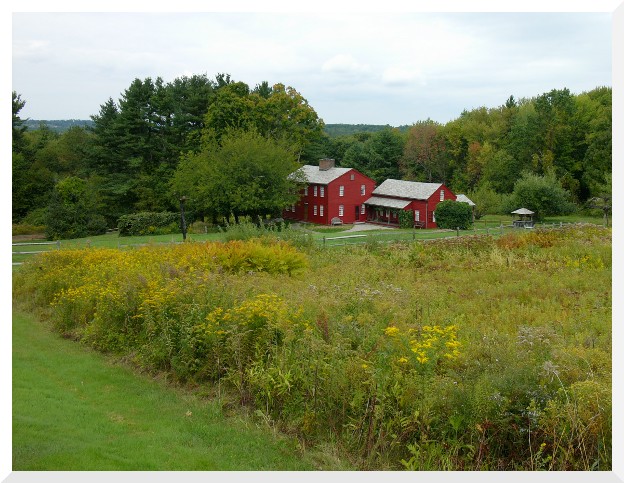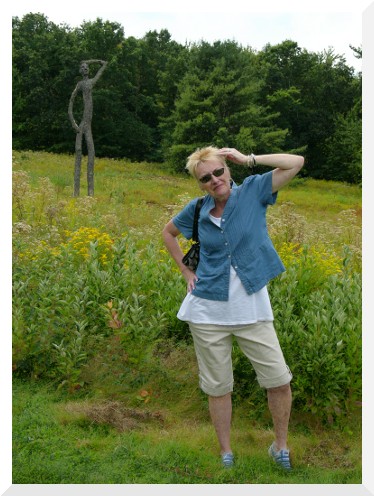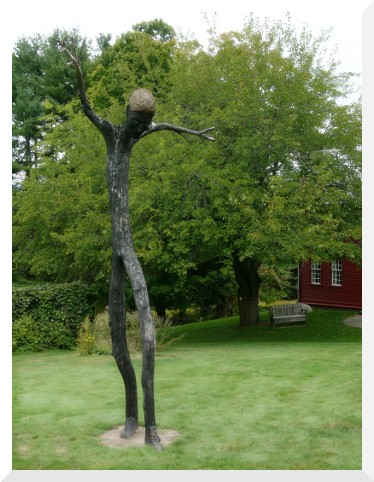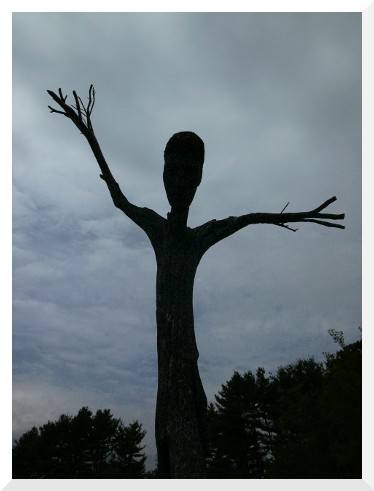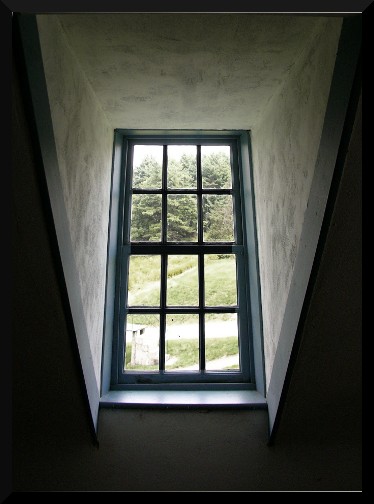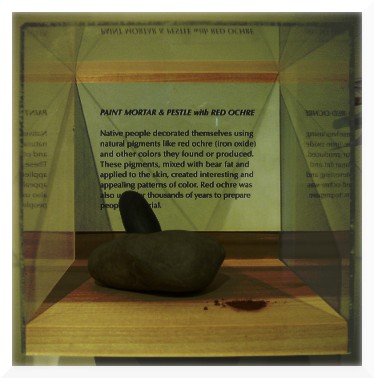 ---
Sep.21.2010
Happy Birthday Sarah ! !


(shown here with my buddy Jake )